If there's one thing that I'm proud about Davao City — and it's extremely difficult to pick one — it's the fact that I can breathe clean air without any trace of cigarette smoke.
The Anti-Smoking Ordinance in Davao City has been running for decades, and has successfully turned a lot of Dabawenyos away from the deadly vice. What's more, the strict implementation of the rule has made locals and tourists enjoy the fresh air that the city has to offer.
I was recently reminded of the highly effective ordinance when I came across an old issue of Health & Home Magazine about smoking. Chief editor Jose F. Sarsoza Jr. wrote an editorial about the impact of smoking in society, but what caught my eye was his experience in boarding a plane to Davao City.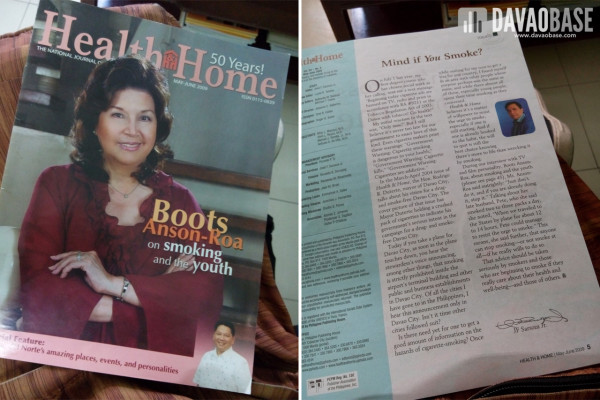 Here's an excerpt of the editorial that mentions the implementation of the ordinance in the city:
"Today if you take a plane for Davao City, as soon as the plan touches down, you hear the stewardess's voice announcing, among other things, that smoking is strictly prohibited inside the airport's terminal building and other public and business establishments in Davao City. Of all the cities I have gone to in the Philippines, I hear this announcement only in Davao City. Isn't it time other cities followed suit?"
I hear this advisory every time I fly home as the plane lands in
Davao International Airport
, and it really reminds me how effective the ordinance is. I'm thankful that the airline companies choose to follow the ordinance and tell everyone on board about it. This kind of ordinance sets a good example for tourists who visit Davao City, because it speaks so much about how the city values clean, breathable air.
Have you heard this advisory during any of your flights to Davao City?