Summer in Davao has not changed too drastically from years past, but this season reminds me of how I enjoyed the city every time the school summer break started. This thought got me into a nostalgic mood, as I remembered how different Davao City was in the 1980s.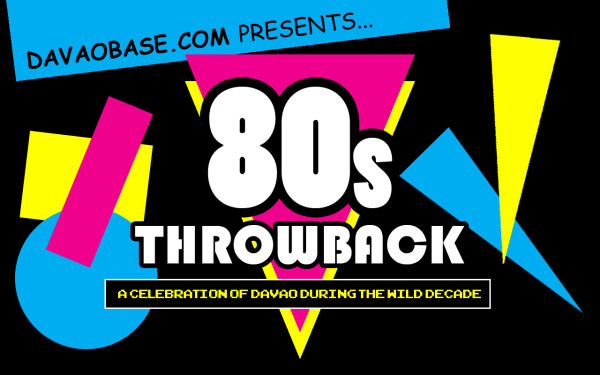 I began to remember bits and pieces of what made Davao City indelible in my heart. Not for long, I began writing down memories of Davao in the 80's, which eventually resulted to this list.
If you grew up in Davao City during the 80's, you should be able to remember some (if not all) of these 10 memories that are absolutely Davao!
1. Escalator at Datu Complex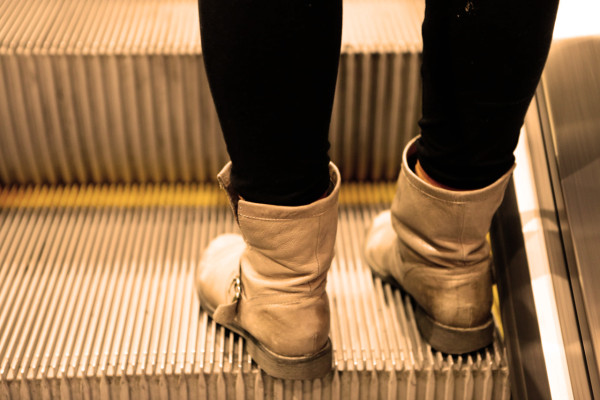 The newfangled mobile staircase first appeared in Davao City at Datu Complex, a defunct shopping center along Bolton Street. It was popular for being the first and only escalator in Davao. I recall riding the narrow one-lane escalator to go up the second floor of Datu Complex, but I distinctly remember that there was no escalator going down! It was an exhilarating experience to hitch a ride on this technological breakthrough back then.
2. Standalone movie houses featuring "Double With" films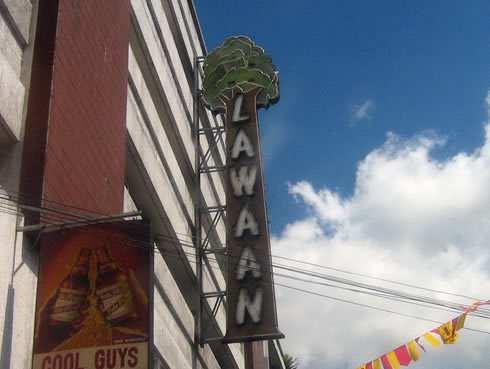 Long before people flocked to malls to watch movies, standalone cinemas were big in the 80's. I can still remember the names of the popular movie houses by heart:
Garmon, Galaxy, Golden, and Ace (San Pedro and Ilustre Streets)
Ideal, Eagle, Odeon, Lawaan and Davao (Claveria / C.M. Recto Street)
Lyric and Crest (San Pedro Street)
Queens and Tagumpay (Bonifacio Street)
Many of these cinemas were known to show two films back-to-back, dubbed as "Double With" or simply D/W. Watching movies in cinemas back in the 80's wasn't complete without noticing the quintessential motto: "Relax… and see a movie" (other variations existed and even went as far as "Sit back, relax, watch a movie, win a bike!"). Before heading downtown to watch films, it was also standard fare to tune in to GMA 7 to catch the Metro Davao Movie Guide to know the list of movies "now showing" in local cinemas.
As soon as Victoria Plaza (the first mall in Davao City) set up shop with its six in-house cinemas, attendance in the standalone movie houses started dwindling until they were forced to close down.
3. Urban legend: Snake in a popular department store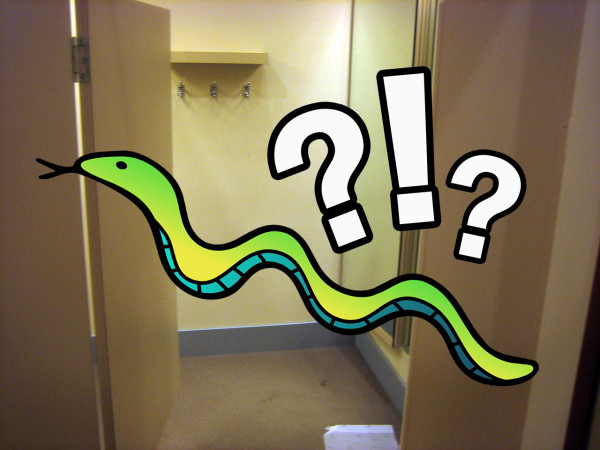 There was a notorious word-of-mouth information during the 1980's that mentioned one of the famous department stores in Davao was harboring a snake inside its premises. The gossip was that the reptile was found in one of the fitting rooms and was actually the owner's pet or child who brought good luck to the store. This just goes to show how creative and imaginative Dabawenyos can be! The absurd news lingered for years until it slithered away to obscurity.
4. GAP Farm Orchard Resort, the ultimate field trip destination
The tourist destination along Ma-a Diversion Road was unique in many ways. GAP Farm Orchard Resort was a downhill area from the highway but the view from the inside looked like you were in a mountain resort. The huge "Land of Promise" signage was a tourist attraction in itself. The entire resort was laden with statues of popular characters, including a giant cyclops that scared the living daylights out of children, and a pissing carabao that greeted visitors at the entrance. No wonder it was considered the primary destination for field trips and school excursions.
5. The "20 Seconds Of Darkness" shortcut between Magallanes and Ilustre Streets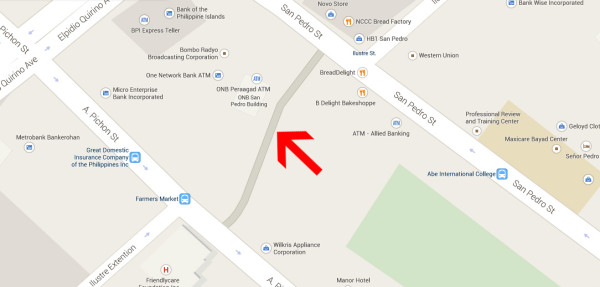 During this decade, Ilustre was considered the place to be. If you were coming from the southern part of the city via public transport, the fastest way to Ilustre was through a shortcut called "20 seconds of darkness". This narrow alley between Magallanes Street (near the Bankerohan market exit) and San Pedro Street exits beside the old Games & Garments store. In a matter of 20 seconds through this dark pathway, you could get to Ilustre in no time.
(Note: I'm not sure if "20 seconds of darkness" was an official name, or just something coined by my nephew Janjan!)
6. Crooked Road: the hair styling capital of Davao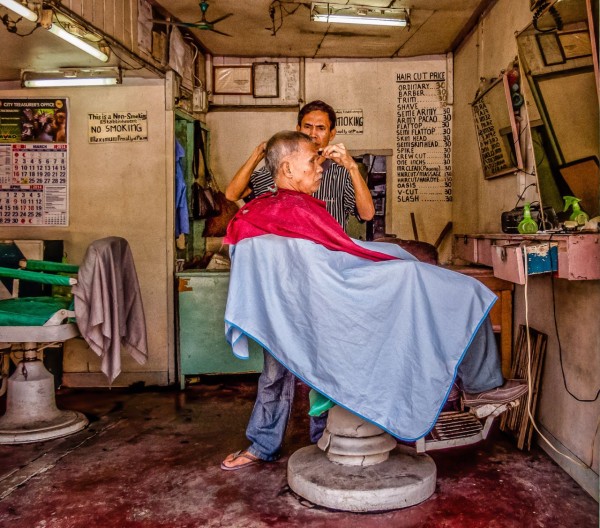 Where could you find the most number of parlors and open-air barber shops in the smallest of Davao City streets? Why, at the Crooked Road, of course! This extension of Ponciano Street is weirdly curved — hence the name — and is home to hair care centers. I remember having one of my first haircuts here, aside from the old Doming's Barber Shop in Rizal Street.
7. Child's picture from Cesar's Portrait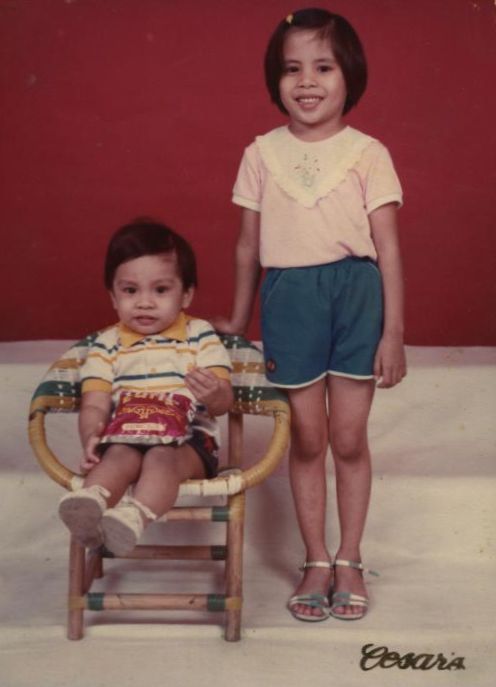 If you were a kid in the 80's, there's a big chance that you had your toddler pictures taken at Cesar's Portrait in City Hall Drive. The photo studio is famous for its framed portraits: grayscale or sepia side view shots of the child amidst a stark white background. The portrait looked simple but it was a huge trend back in the day. Cesar's Portrait also offered colored picture prints, like the one above. The iconic signature at the bottom completes the package… and the memories.
8. Shopping For Premier Items at A&M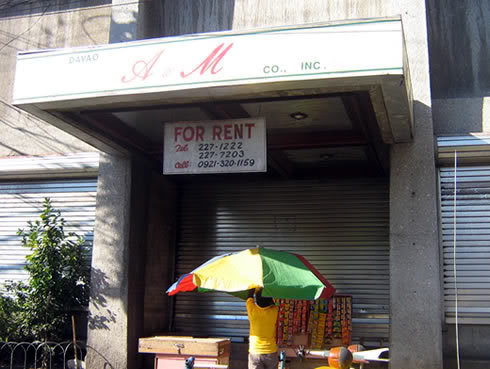 While Dabawenyos did their regular shopping at several department stores (JS Gaisano, Mantex Superstore, Gaisano Center and NCCC Uyanguren),
Davao A&M
was the premier shopping destination for brand-conscious people who fancied Armando Caruso hankies or Rainbow Brite toys. Davao A&M was probably this generation's version of H&M. Yeah, that's how elite the store was during the 80's.
9. Christmas displays at Coca-Cola Ulas
The entire country celebrates Christmas in big ways, but no other Davao establishment could beat the Coke plant in Ulas in terms of Christmas decorations. I'm not talking about big Christmas trees or lanterns; that's way too easy. The factory would put up elaborate moving displays like a giant Santa Claus waving to the vehicular traffic below or a huge Coke bottle pouring out its contents into a huge well. Year by year, Coke Ulas would put up larger-than-life Christmas displays that many Dabawenyos had come to anticipate.
10. Minica as taxicab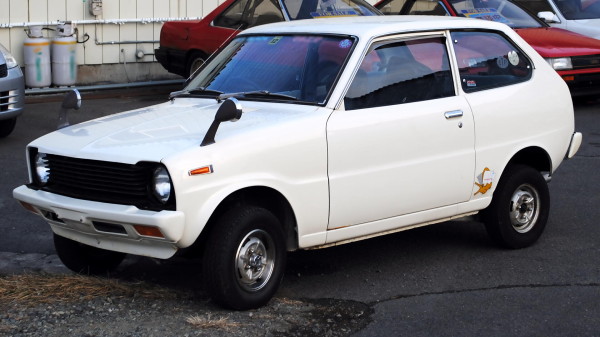 Taxi transport in Davao circa 1980s came in the form of the P.U., but the Mitsubishi Minica brought a unique brand of taxi experience in the city. The rest of the Philippines may recall this car model mentioned in the famous tongue twister "Minekaniko ni Monico ang makina ng Minica ni Monica", but Dabawenyos knew the Minica as an 80's taxicab. This miniature-sized vehicle reminds me of Mr. Bean's car, and was popular as a public utility vehicle in the city. Taxi fare was determined not by a running meter but through verbal arrangements (or negotiations, if you will) with the driver.
——————————–
Gaaaah! It was so difficult to sift through the dozens of memories that I have of Davao in the 80's, but these ten are some of the best proofs that I grew up in Davao during the wild decade.
Do you have your own memories of Davao in the 1980's? Hit me up in the comments below!
(Thanks to Leah, Ate Jojo, Monique, Janjan and Mabelle for your suggestions.)