Unlike other major malls in the city, NCCC Mall of Davao houses only 1 coffee shop (as of writing), and that is the South Brews, located a few steps away from the Food Cove at the mall's 2nd floor.
This coffee shop has been around for a while, but we haven't had the chance to stop by since we go to NCCC Mall usually for the cinemas or the supermarket. Since I needed to pass time while waiting for Chito, who attended a mini-reunion with his high school friends in Ma-a, I had the chance to stay at South Brews.
South Brews offers hot and cold beverages, including coffee, tea, fruit smoothies and soft drinks. They also serve cakes and other desserts. I had Coffee Mocha Breeze (first photo). I was later joined by Chito, who had Mochanut Frappe (second photo), and our friend Christian, who ordered root beer.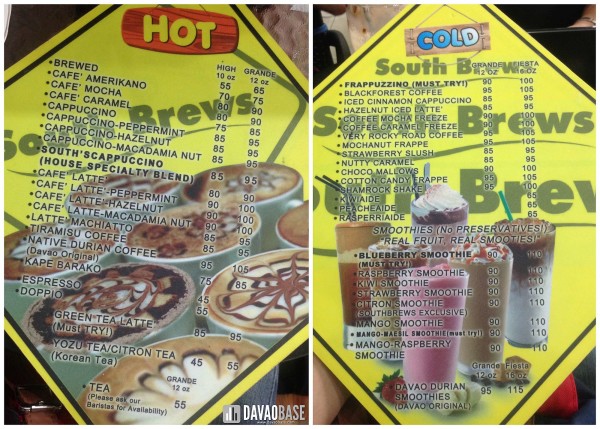 The coffee shop's location has great view as it overlooks the Activity Area. At the time we were there, only the Allegro inflatable slides were on the ground floor, so it was actually fun watching kids and kids-at-heart have fun taking turns at the slides. I can imagine how it's going to be too loud in the area (making it unfit for either work or relaxation) when there's an ongoing event or celebrity mall show.
The shop has good WiFi connection and charges P15 for electricity if you want to charge your gadgets. My laptop's battery was running low, so I had to plug in. The charge is fixed (not per hour, like in a number of other coffee shops).
I would enjoy another visit to this shop soon.
South Brews
NCCC Mall 2nd Floor
MacArthur Highway corner Ma-a, Davao City