We at DavaoBase truly appreciate every recognition we receive. Here's a list of awards and citations that we have received so far:
Davao Blog Awards
Hall of Fame – Best Davao Gateway Blog
Davao Blog Awards 2018
Best Gateway Blog, 2017
Best Gateway Blog, 2016
Best Gateway Blog, 2015
Best Gateway Blog, 2014
Best Gateway Blog, 2013
Best Gateway Blog, 2012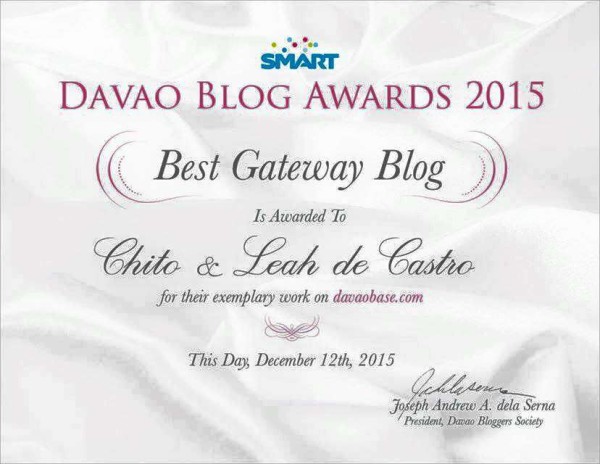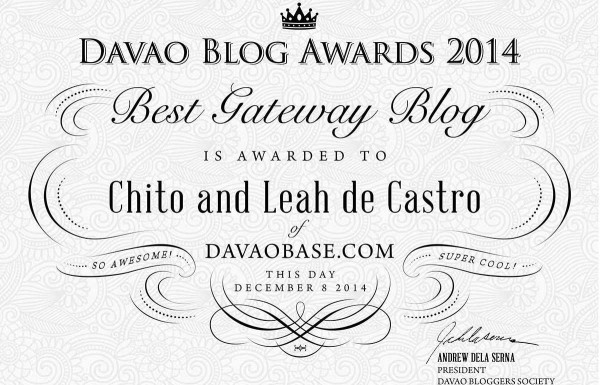 Mindanao Blog Awards
We bagged this distinction from the Mindanao Blog Awards, as a blog that "highlights the new and exciting things to do in a place or community."
Globe Racing Amplified
In this competition akin to The Amazing Race, teams of media personalities and bloggers from Manila and Davao raced towards several obstacles that showcase the best features of Davao and the strengthened network of Globe. Leah was part of Team Globe Tattoo@Home together with Jesse Pizarro Boga and Tom Noda, and the team finished first!
Araw ng Dabaw Blog Competition
The City Government of Davao hosted a Blog Contest to feature the city, in line with the 75th Araw ng Dabaw. Leah's entry entitled "Reasons Why I'm Still in Davao After 32 Years" was awarded first place! To date, this blog post has been one of the most visited pages in our site.
Philippine Blog Awards
This recognition from the national award-giving body for blogs came in the form of the Mindanao Blogger's Choice award, based on votes by our peers.
Bloggy Award
The Bloggy Award review gave us a score of 10 in every category — Visual Aesthetics, User Friendliness, Reading Enjoyment, and Useful Info (which the reviewer pointed out as our site's "strongest point".)