When we experience power interruption, we needed to call Davao Light to get information regarding the outage. The good news now is that Davao Light and Power Co. has recently launched its text messaging service for power interruptions — the ASKDLPC OUTAGE.
We don't need to call to access information regarding an ongoing power interruption. The info we need may just be a text away.
Customers may text ASKDLPC(space)OUTAGE(space)any of the following information: 10-digit Davao Light account ID; or 7-digit number of the nearest pole; or the customer's specific address (which includes the house number, name of street, name of subdivision or village, name of barangay and city).
Send to 391-3572 for SMART, Talk 'n Text and Red Mobile subscribers.
Send to 0922-9993572 for Sun Cellular, Globe and TM subscribers.
Regular text messaging rates apply. You use up P1.00 of your load for every text message sent.
This is the second text messaging service of Davao Light. The first was the ASKDLPC BILL that allows customers to inquire about their electric bills through SMS.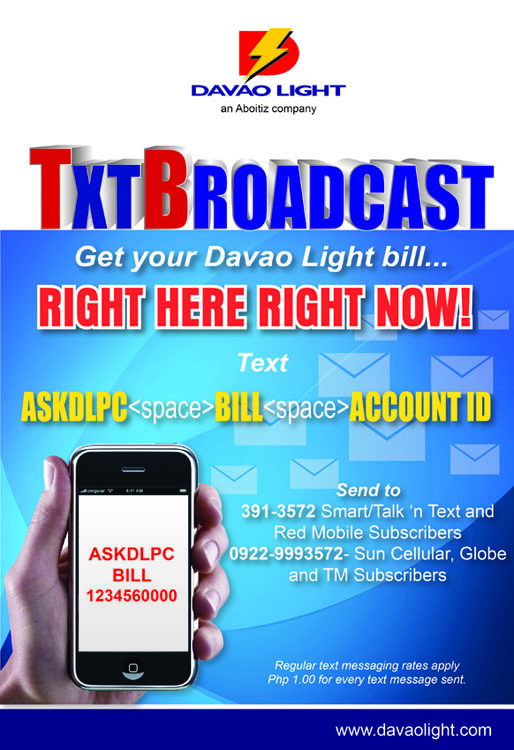 To get your bill, text ASKDLPC(space)BILL(space)account ID. Send to the same numbers listed above.