To put Globe's stronger network to the test, media personalities and bloggers from Manila and Davao accepted the challenge to race around Davao in the Globe Racing Amplified last Saturday, March 24.
I arrived at Marco Polo Hotel at around 8:00 AM for the orientation for participants. I was really surprised to see several photographers and cameramen in the lobby! I was kind of hoping they weren't for the Globe event, as having people follow you around during the race would further intensify the pressure.
As I was eating breakfast at the Sarangani Room and chatting with fellow participants, the reality was slowly setting in — yes, photographers led by PROtographer Roland Jumawan and ABS-CBN staff will be with us during the race. Yikes, pressure to the highest level! =P
The teams for the Globe Racing Amplified were:
Team Tattoo@Home
Leah de Castro of www.davaobase.com — Navigator
Tom Noda of Philippine Star Online
Jesse Pizarro Boga of Mindanao Times
Team Go Lang Nang Go – Blue
Glenn Ong of www.glennong.com — Navigator
Emmie Abadilla of Manila Bulletin
Jon Joaquin of Mindanao Daily Mirror
Team GCash
Ria Jose of www.riajose.com — Navigator
Alex Villafania of www.loqal.ph
Giovanni Flaviano of People's Forum
Team Go Lang Nang Go – Pink
Eric Losloso of Business Mirror — Navigator
Mark Sablan of Philippine Daily Inquirer
Lyle Santos of www.lylesantos.com
Team TM – White
Olan Emboscado of www.olanology.com — Navigator
Alden Cedo of Philippine Daily Inquirer
Kenneth Ong of The Edge
Team TM – Black
Raffy Pedrajita of www.pinoytechblog.com — Navigator
Edsel Lorete of Daily Tribune
King Rodriguez of SunStar Davao
Team My Super Plan
Renz Bulseco of www.thetravelingnomad.com — Navigator
Melvin Calimag of www.newsbytes.ph
Ana Dulay of Sunstar Davao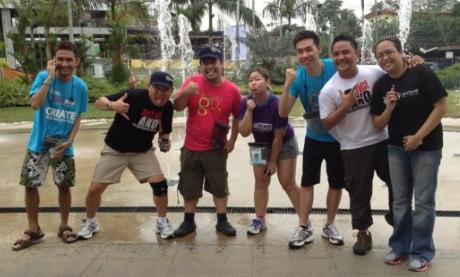 Globe provided us with iPhone 4S units to be used during the race. Each team was assigned one van, but all navigators had to travel together in the navigators' van. We will only see our teammates again at the final pit stop.
As navigators, our task was to complete challenges (including eating durian in Magsaysay Park, finding a special shawl in Aldevinco, completing a puzzle under the heat of the sun in Abreeza, ziplining in Zip City, and more) to get the details of the next destination for our teammates, who also had to complete their own challenges to get to the next pit stops. We made use of Globe's fast and efficient network to communicate with teammates, post tweets, use Facebook and check in on Foursquare.
Our challenges usually involved the use of Facebook, Twitter and Foursquare. The connection was superb in most of our destinations. The only place we did not have internet connection was in Zip City, but we were still able to communicate with our teammates through calls and texts.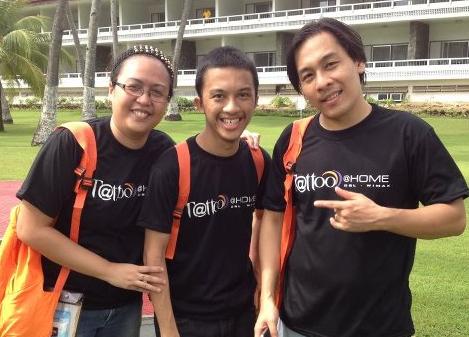 In the end, our team, Team Tattoo@Home, finished FIRST! We were the first complete team to step on the final pit stop mat at Waterfront Insular Hotel. Look at our exhausted-but-happy faces in the photo above. =)
The activity was really fun, but the modernization program of Globe is even more exciting! Just check out the speed test done by Winston Almendras in Davao. Super!