What is PISOBILITIES?
Pisobilities refers to one's ability to earn and manage his one peso and the possibilities of making that same peso work for him. According to best-selling author and financial guru Francisco J. Colayco, each person's financial profile should be like a one peso coin with two sides that give him more than enough capacity to attain financial independence.
One side represents his ability to generate active income or the income earned when he invests his talent, sweat and time. The other side is his ability to generate passive income or the income earned from savings, otherwise known as investment income. He has to use these two capabilities at the same time in order to be wealthy.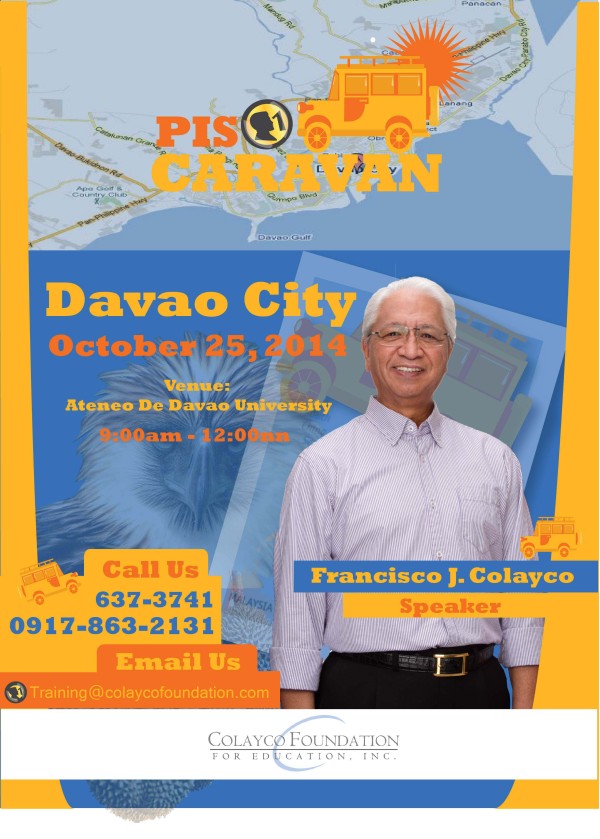 What is the Pisobilities Caravan?
The best-selling program PISOBILITIES has been attended by thousands of Filipinos in the Philippines and abroad. Those who have taken on the challenge have made significant changes in their financial lives: growing out of debt, achieving their wealth goals, providing for their families, etc.
The Pisobilities Caravan brings this life changing program to various cities in the Philippines in order to empower more Filipinos to be wealthy through personal finance and investing education.
Why join Pisobilities?
Because more than encouraging to save, Pisobilities is all about maximizing the potential of your financial life in order to provide you with a secure and comfortable financial future. Learn not just the technical terms made understandable in easy to understand lay-man's terms but effective strategies for building and maintaining wealth.
No need to worry about investment and financial products being pushed on you. Francisco Colayco and Colayco Foundation offer unbiased financial education. Colayco Foundation does not sell financial products ensuring that you learn not just about the benefits of investing but also the risks and how tomanage them. Colayco Foundation focuses on the Filipino and helps design strategies on achieving your wealth goals according to your specific financial profile and circumstance.
The Pisobilities Caravan will be visiting Davao City this October 25, 2014, 9am-12nn at the Finster Auditorium, Ateneo de Davao University, Davao City.
Reserve a slot today at (02) 631-4446 / 0917-8632131 or email training@colaycofoundation.com. For more details, visit www.colaycofoundation.com or www.facebook.com/franciscocolayco.
Learning fee is P500 per person, inclusive of a "Wealth Within Your Reach" book.
If you are a follower of this blog, you are entitled to a discounted learning fee!  Instead of P500, you only pay P395!
You may register and pay online:
via credit card
via over the counter at 7/11 or MLhuillier
Or you may register via SMS (09178632131) or email (training@colaycofoundation.com), and pay via bank deposit:
BPI Deposit Payment Instructions
Metrobank Deposit Payment Instructions
Text and Images from Colayco Foundation