Because it's Ford Truck Month, we get to try the King of the Road — the power-packed Ford Ranger Raptor — on a fun and smooth road trip and farm tour!
The Ford Ranger Raptor is a super truck that packs a 2.0L bi-turbo diesel engine, 10-speed automatic transmission, and lots of smart features. We took this high-speed off-road performance truck to a farm tour and durian harvest at Belviz Farms in Calinan, and you can truly feel its control and stability on the wet and tough farm roads. Of course, the ride was extra comfortable during the city drive too.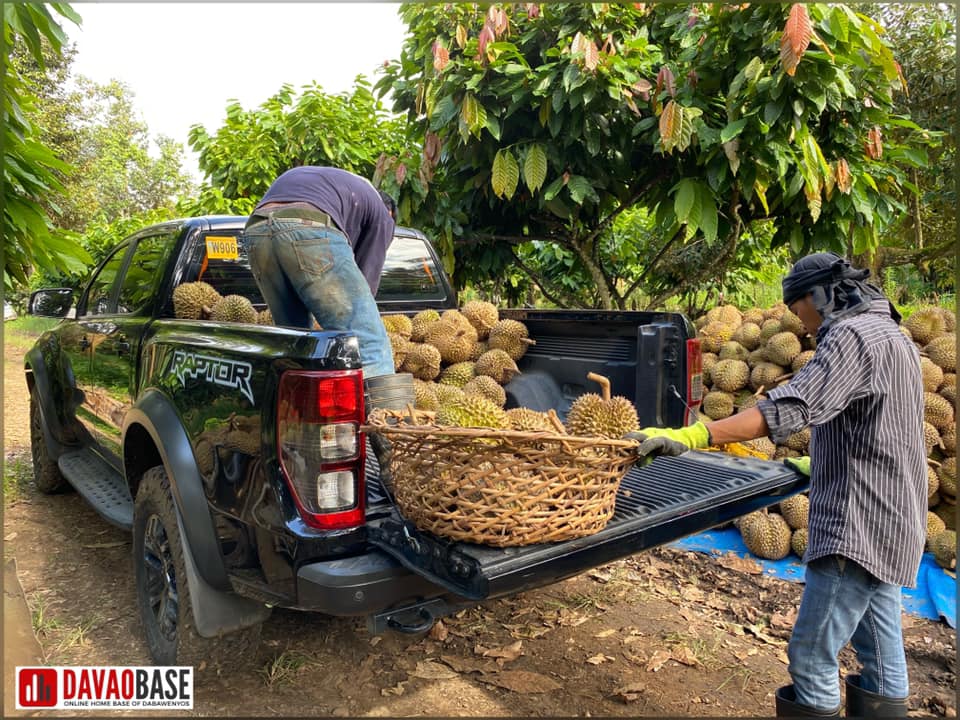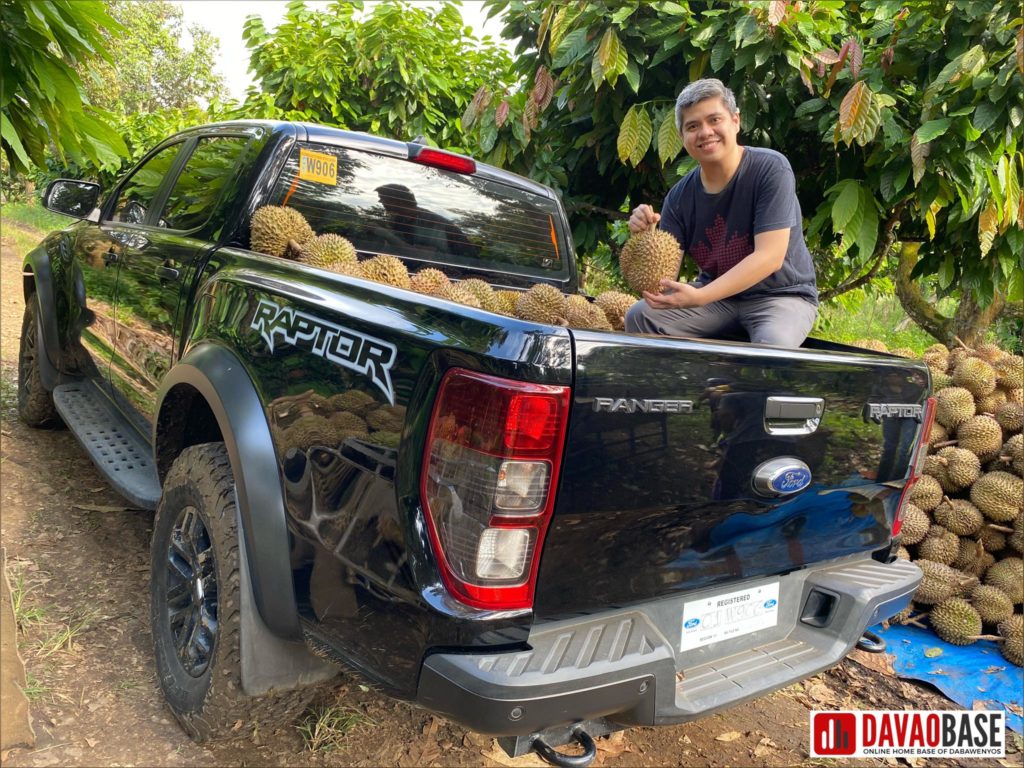 Pickup trucks like the Ford Ranger have evolved from being the top choice of people whose businesses require vehicles for heavy loading and off-roading into a modern lifetyle vehicle that offers comfort, versatility and stability not only for business people, but also for families and independent young adults.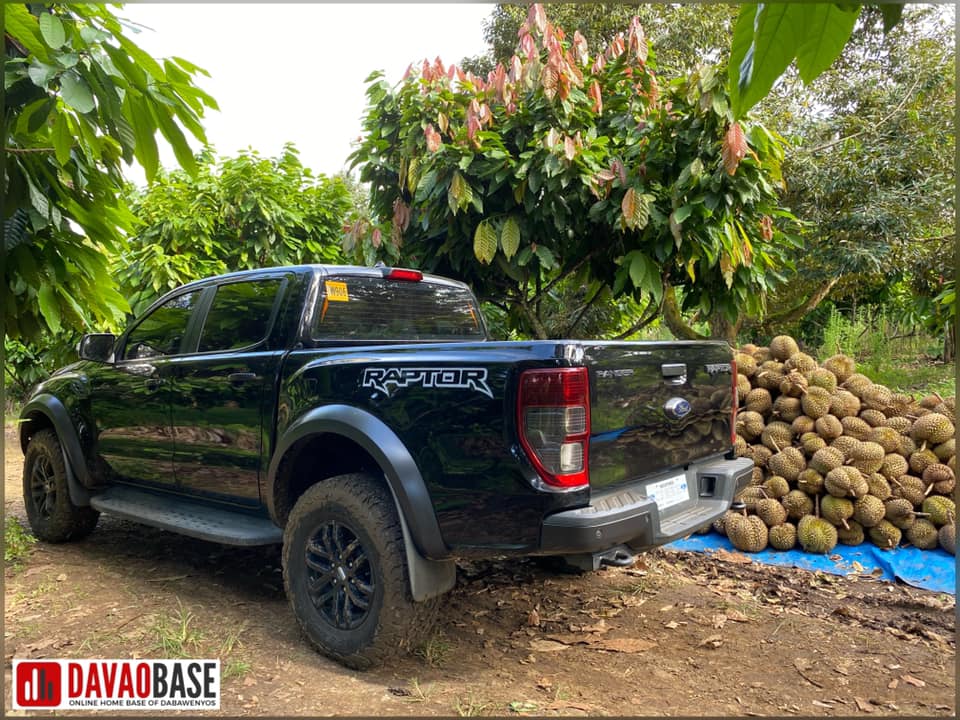 ---
(PR) Ford Philippines launched the new model of the Ford Ranger in 2018 equipped with enhanced power, performance, and smart and safe features. In the same year, Ford also launched the first-ever Ranger Raptor, combining Ford Performance DNA with the Ranger's renowned 'Built Ford Tough' character and capability to set a new benchmark in high-speed, off-road pickup capability.
Ford Ranger: Tough and Smart
The new Ranger offers a choice of three diesel powertrains to deliver greater versatility and meet consumer demands for a wider variety of requirements. These include the new generation 2.0L Bi-Turbo and 2.0L Turbo engines, and the Ranger's proven 2.2L TDCi engine.
The new Ranger also boasts of advanced smart and safe features such as the Autonomous Emergency Braking (AEB) feature which helps mitigate risks by detecting pedestrians and vehicles, alerting drivers with an audible and visual warning. The new Ranger is also equipped with Active Park Assist (APA) which helps the driver find parallel parking spaces and steers itself to a parking spot. All the driver needs to do is control the throttle and brake.
Also available on the new Ranger is the Adaptive Cruise Control feature, which senses traffic and adjusts speed automatically. Meanwhile, the Lane Departure Warning feature vibrates the steering wheel if the driver unintentionally moves out of his/her lane at certain speed.
Loading is easier than ever on the Ranger XLT and Wildtrak variants with the introduction of Tailgate Lift Assist. With a new internal mechanism, the Ranger's tailgate is now lighter to lift, with a 70 percent reduction in initial force required to raise it for closing.
The Wildtrak variants also offer the Smart Keyless Entry and push-button start, as well as up to six airbags ensuring maximum convenience and safety. The new Ranger also offers the SYNC3 feature compatible with Apple CarPlay and Android Auto, allowing drivers to make calls, select music, and use apps with eyes on the road and hands on the wheel.
Ford Ranger Raptor: Power and Performance
The Ranger Raptor is equipped with a new 2.0-liter Bi-Turbo diesel engine that delivers a maximum of 213PS of power and 500Nm of torque. The Ford-designed and Ford-built 10-speed automatic transmission has been created with high-strength steel, aluminum alloys and composites to optimize durability and weight.
It features distinctive design cues inside and out that are functionally driven. At the front, a stunning new grille takes styling cues from the F-150 Raptor with the iconic block FORD lettering proudly positioned within the grille design.
Inside, the Ranger Raptor offers a tailored Ford Performance DNA interior design with a high level of craftsmanship, harmonious colors and durable materials suitable for both off-road driving and everyday use. The seats are specially designed for off-road high-speed performance support.
The Ranger Raptor's chassis frame is a new unique frame that is specifically designed for the vehicle to travel at high speeds off road. The Ranger Raptor's Position Sensitive Damping (PSD) shock absorbers are exclusively manufactured by FOX, designed to provide higher damping forces at full jounce and rebound to enable better off-road capabilities.
Its Terrain Management System (TMS) includes the Baja mode, inspired by Mexico's famous Baja Desert Rally, and enables ultra-responsive, high-speed off-road performance. In this mode, vehicle systems like Traction Control are pared back to allow spirited off-road driving without intervention from the vehicle's on-board systems.
The Ranger Raptor comes with a host of advanced Driver Assist Technologies (DATs) such as SYNC→ 3, a fully integrated, voice activation system that lets the driver use their favorite devices while their hands stay on the wheel and eyes on the road. Ford's comprehensive Electronic Stability Control (ESC) system also helps in difficult cornering and braking situations.
New Enhancements to the Ranger Lineup
Earlier this year, Ford Philippines introduced a series of enhancements and upgrades to its entire Ranger lineup. Ranger XLS variants now come with a new 8-inch LCD touchscreen radio with Apple Carplay and Android Auto Capability. A new Ranger XLS Sport 4×2 A/T variant is added to the Ranger XLS products available to customers. Ranger XLT variants also come with a new 8-inch LCD touchscreen radio with Apple Carplay and Android Auto Capability.
Meanwhile, Ranger Wildtrak 4×2 variants now have a new wheel design and LED headlamps. The Wildtrak 4×4 also has a new wheel design, LED headlamps, camera-based Autonomous Emergency Braking with pedestrian detection and high-mount USB feature to support various dashcam models. On the other hand, the Ranger Raptor now comes with a camera-based Autonomous Emergency Braking with pedestrian detection, high-mount USB, and LED headlamps.
Boosting Pickup Portfolio with FX4 and FX4 4×4
Ford also expanded its pickup truck portfolio in January this year with the addition of the Ranger FX4, and in September, the FX4 4×4 variant. Instantly recognizable is the Ranger FX4's eye-catching design that distinguishes itself across the entire Ranger lineup. Unique 18-inch black alloy wheels, new mesh grille, extended steel sports bar, and ebony black accents on side mirror caps, door handles, front and rear bumpers and fender features give the Ranger FX4 a distinctive look and style.
On the inside, the Ranger FX4 retains its refined look with FX4-embossed leather seats, FX4-branded floor mats, and sporty dark environment highlighted by race red stitching accents on the soft top instrument panel, center console, gear shifter, and door trims.
Great deals for the Ford Ranger during Truck Month
Ford Philippines is bringing back its much-anticipated Truck Month with great deals and offers to customers buying a Ford Ranger. Customers can avail of cash discounts, all-in low downpayment deals, and free ownership package worth PHP100,000 with their purchase of a Ranger Wildtrak, XLS, or Raptor.
The Ranger 2.0L Wildtrak 4×2 MT is available this month with a PHP90,000 cash discount while the Ranger 2.0L Wildtrak 4×2 AT comes with a cash discount of PHP70,000.
On the other hand, the Ranger 2.2L XLS 4×2 MT is available with a cash discount of PHP89,000, effectively bringing its starting retail price to only PHP943,000. Customers can also avail of a financing offer of PHP88,000 all-in low downpayment.
Meanwhile, customers who are looking to purchase the Ranger Raptor are entitled to the Ranger Raptor Premium Care Package inclusive of a free 5-Year Scheduled Service Plan, 5-Year Warranty (from 3 years), and 5-Year Roadside Assistance. The worry-free ownership package is valued at PHP100,000.
Ford Davao
Showroom Address: Lanang, Davao City
Phone: (082) 234 1111
Website: www.ford.com.ph/trucks/ranger/.