Finishing the Ironman Triathlon and landing on the Dean's List sound like two extremely different areas of expertise, but not for triathlete Jj Sarona.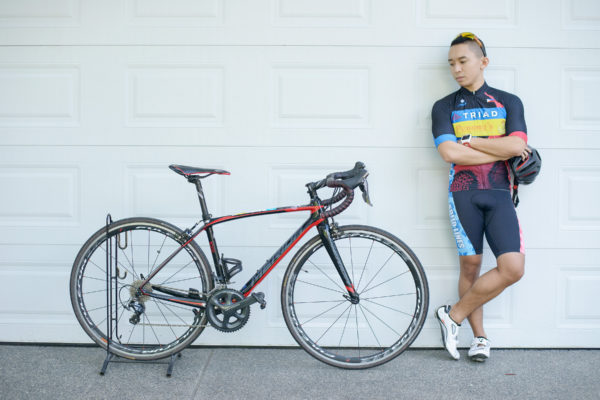 His achievement as the youngest triathlete who finished the Ironman 70.3 in 2015 is something that he treasures proudly. He got bit by the triathlon bug when he was 15. "Even as a spectator, I was able to feel the thrill and excitement of the sport. I fell in love with triathlon because of the variations during everyday training. Training always involves a new adventure day by day."
His attraction to triathlon led him to join the Triathlon Association of Davao (TRIAD), a local group composed of triathlon enthusiasts who not only compete in the world stage but also organize triathlon events in Davao. Being a triathlete member of TRIAD involves grueling preparation, but also fun at the same time. "I train 4 to 6 times a week during race season and off-season, 3 to 5 days to maintain my fitness level. By myself on weekdays and with my teammates from TRIAD during weekends."
Eventually, he found himself joining triathlon events in Bohol and Subic, as well as his first international competition in Ironman 70.3 Thailand.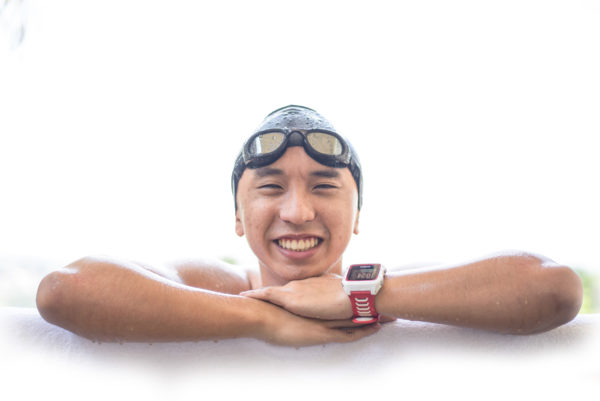 What makes Jj's feat amazing is that he is able to strike a balance between his love for sports and his knack for academics. Proof of this is his achievement as class valedictorian at the Philippine Women's College both in elementary and high school. He is now studying BS Accountancy at the Ateneo de Davao University, and is a consistent Dean's Lister.
His secret? Time management. "We all have 24 hours a day to manage and I usually plan out my week in advance and adjust it accordingly. Planning the week helps me keep track of the time and make sure everything is balanced," Sarona said.
What's great about engaging in both sports and academic commitments is that it keeps him in check, Sarona expressed. "School can be quite demanding and sports balances it out, since this is where I can release stress. We all need some kind of release from all the stress in life that's why it's recommended we all take some sort of hobby, even if it's not necessarily through sports."
He considers continual improvement as his life's great adventure. "My adventure is to continually be better than my old self – may it be doing better in school, or beating my personal records in triathlons. Life is an adrenaline-pumping roller coaster ride but I believe I can always do better and that I can achieve what I want to achieve."
Despite his busy schedule, he doesn't fail to take care of his body, particularly grooming. As a triathlete, he maintains a close-cropped haircut because it's easier to manage and it reduces the drag when he races. Short hair is also in keeping with the school's requirements for grooming.
Besides, wearing his hair short eliminates the need to be conscious about it. "Less shampoo and no styling wax needed — that takes off time from my morning routine."
Every two weeks, he visits Rocky's Barbershop at SM City Davao to maintain his hair. "I grew up with Rocky's. My father and I go to the SM City branch. I tried out another barbershop but since I am starting to have a more hectic college schedule I went back to Rocky's SM since it's nearer and more accessible from our home."
Upon discovering the new line of fragrances by Rocky's, Sarona believes that this will allow him to smell fresh without having to think about having to groom himself within the day. "I tried out Adventure perfume and the smell really describes the name. It has a very distinct smell I like, and the scent can excite the senses, just like an adventure. It also lasts long throughout the day," Sarona expressed.
Triathlon may sound extremely difficult and sweat-inducing, but triathletes should still continue to look their very best. "In triathlon, we all have their photos taken and these serve as memorabilia for races. No matter how tired we are after the race, we put our best smiles forward for the photographers to commemorate. Grooming helps me look fresh in the midst of strenuous physical activity," Sarona added.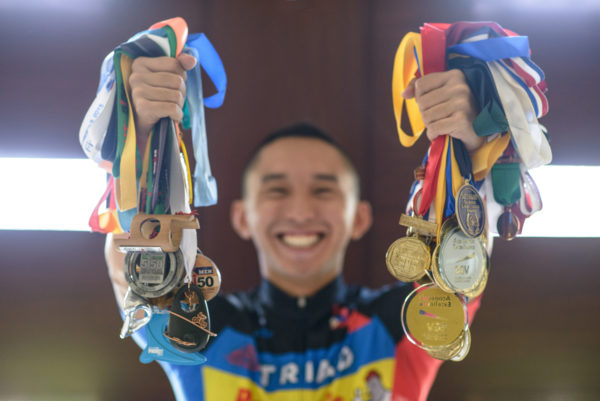 Adventure is one of two signature fragrances from Rocky's. You may purchase your bottle of Adventure in all Rocky's Barbershop outlets — SM City Davao, SM Lanang Premier, Victoria Plaza, Abreeza Mall, Gaisano Mall of Davao, Centrio Ayala Mall, and SM City Cagayan de Oro.
[Information and images from Rocky's Barbershop / Jinggoy Salvador]