The action film "We Will Not Die Tonight" starred by Dabawenya actress Erich Gonzales will have two special screenings at the the 16th Mindanao Film Festival in Davao City. These will be on December 8, 7:30 PM and December 9, 4:30 PM.
Directed by Richard Somes, the movie is Erich Gonzales' first foray into the action genre. She is also one of the film's co-producers.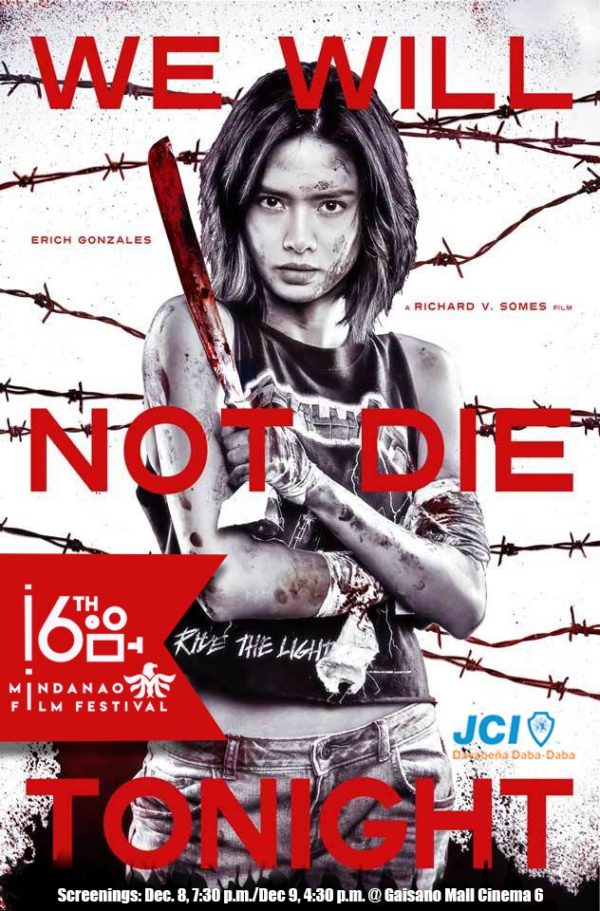 Women in Action Film Screenings
The film screenings are organized by the Mindanao Film Festival and the JCI Davaoeña Daba-Daba. The screenings will be held at the Gaisano Mall of Davao Cinema 6. The December 8 screening will be graced by film director Richard Somes and actor Paolo Paraiso, who plays the film's main antagonist.
Part of the proceeds from the film screenings will be for JCI Davaoeña's Share A Joy Year 7 beneficiaries. The special screenings will be adopting the theme "Women in Action."
"The movie, where we have an empowered female action heroine, resonates with JCI Davaoeña Daba-Daba, who are also women in action, working to make into reality numerous projects and advocacies for the community," says Barbie Blanco, JCI Davaoeña president.
Among the group's projects include: Book Your Future (a book drive for rural schools), Good Hair Days/Ground Zero Year 2 (an entrepreneurial drive to minimize the use of single-use plastics), and Oplan Kaagapay (a donation drive for victims of recent big fires in Davao City).
"Women in Action translates into breaking stereotypes. That women can also become gutsy action heroes not just in the movies, but also in real-life, engaging in different endeavors and noble pursuits," Blanco said.
Rudolph Alama, festival director of the Mindanao Film Festival, says women have played a key role in the development of regional film movement in Mindanao.
"We have lots of women filmmakers here in the region and they also are the epitome of women-in-action. It takes a lot of effort in making films. In fact, our opening film Kauyagan is made by a lady filmmaker from Cagayan de Oro, Julienne Ilagan," Alama said.
Get Your MFF Tickets!
This year's 16th Mindanao Film Festival is the largest ever in the history of the MFF, with 107 films from across Mindanao and some overseas short film selections. These films will be screened during the week-long festival slated December 5-11 at Gaisano Mall Cinema 6.
For ticket reservations, you may message JCI Davaoeña Daba-Daba President Barbie Blanco, Project Chair Dixie Urvistondo or Joselle Amarado Gorro. You may PM them for ticket price.
Text and Image from Rudolph Alama/Mindanao Film Festival