The growing number of freelance workers and students in need of a quiet place to work or study has led to the birth of several coworking spaces in the city. While coworking locations are making it big these days, these are actually just small hubs offering users their own private space for a fee. One of the new coworking spaces we have visited with friends is Meek Coworking Cafe, located at Lacson Street in Obrero, Davao City.
Coworking Space versus Coffee Shop or Home
Sure, there are coffee shops, but most  are not really built for serious work or study. They can get really busy (which could mean no more available chairs or tables), can get noisy (lots of people meet at coffee shops to chat), or may not have the things you need (such as power outlets or fast internet). Their choice of lighting and chairs may not also be suitable for long-term work or study.
What about home? Well, home could just be too comfortable to actually get some work or studying done. Seeing the bed so close takes considerable energy, having to always resist the temptation of sleep. This goes the same way for those who find it hard to resist the TV or whatever else you have at home.
At Meek Coworking Cafe, you get your own work space — with friends with whom you can share a table (like in photo above) or solo (like in photo below). Sharing a table does not mean you can do loud discussions, though. Silence is still strictly observed.
Also, you don't need to worry about power outlets, as they have several of them. They would offer you extension wires when you need them, just like they did when we occupied one of the center tables.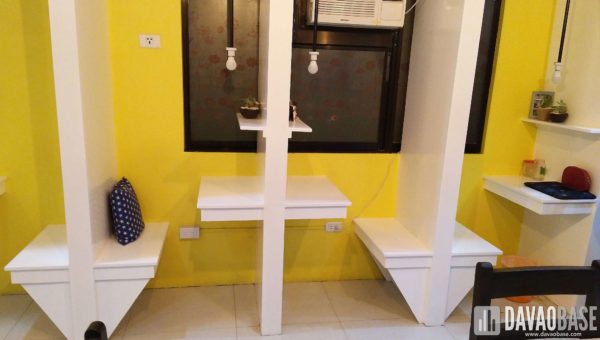 Meek Coworking Cafe Rates
A Hushed Desk Pass allows you your own work space, plus FREE internet and FREE unlimited coffee, hot tea, juice, or iced tea, at the following rates:
Fly-By (1 hour) = P50
Crunch Time (4 hours) = P120
Precision (8 hours) = P180
Enduring (12 hours) = P250
Overload (24 hours) = P350
For group activities, Meek offers War Rooms for P80 to P150 per person. They also cater to workshops for P200 per person at the War Room or for P250 per person at the Hushed Room. If you find the place suited to your needs, you may opt for a monthly membership. With one, you also get a Meek shirt and a Meek mug, plus discounts on their other services.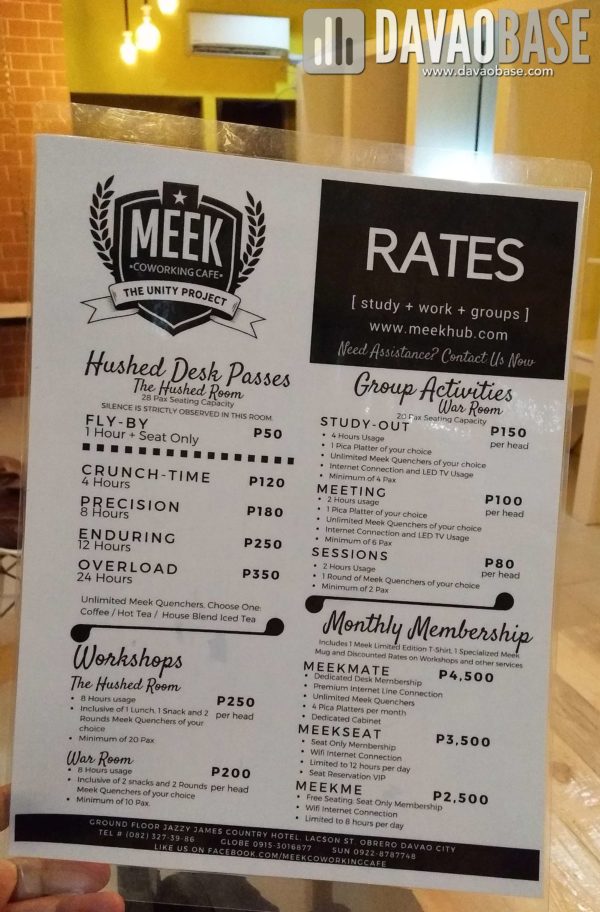 Food and Drinks in Meek Coworking Cafe
How about food? That's an important question, especially since working or studying for long hours can get us really hungry. We have not tried it yet (we have only tried the drinks), but Meek offers rice meals, sandwiches, cakes, pica platters, pasta, and desserts. It also has coffee, frappe, soda, and milkshakes. Check the menu below for the prices of the food and drinks they offer.
Meek Coworking Cafe is great for those who need to do some serious work — meeting a deadline, trying to increase productivity, or preparing for a really important exam. No talk, lots of work.
For inquiries and reservations, you may contact:
Meek Coworking Cafe
Ground Floor of Jazzy James Country Hotel
Lacson st., Obrero, Davao City
Tel: (+63 82) 327 3986
Email: meekhubph[at]gmail.com
Website: meekhub.com