Eager to learn how to write expert-level food reviews and other culinary-based articles? Sign up for Power of Pen 8: Mindanao Culinary Culture – Research and Writing Basics in Davao City!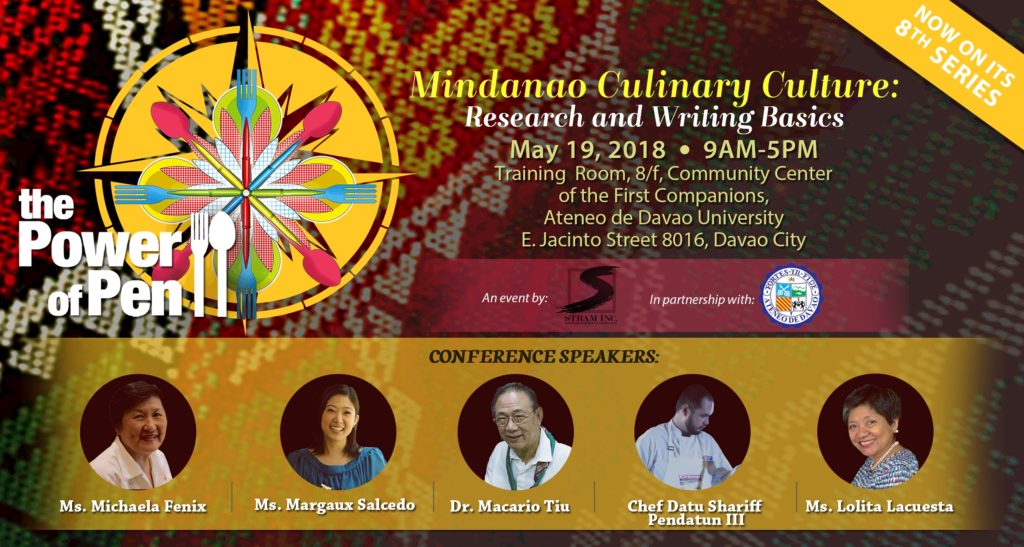 Importance of Proper Writing About Food
Food has gone beyond the limitations of our palate and plates. More than a physiological need, it has become a destination for many, a propelling factor for tourism, and a representation of our culture and history.
How do we communicate our culinary experience in a literary sense? What are the different ways to write a credible critique on food? As practitioners and professionals in the hospitality businesses, what are the various styles of writing that we can use in our respective fields? These are among the questions that will be answered in Power of Pen 8: Mindanao Culinary Culture – Research and Writing Basics.
About Power of Pen 8
On May 19, 2018, five prominent food writers, researchers, and culinary experts will set foot on Ateneo De Davao University to share their journeys, insights, and lessons on Food Writing and Research.
In this seminar and workshop, aspiring food writers, marketing professionals, and social media influencers will be informed and equipped with the essential key points and instructions on crafting food reviews with informative, entertaining, and flavorful content.
Get value-adding insights from Ms. Michaela Fenix (editor and writer) and Ms. Margaux Salcedo (columnist) of the Philippine Daily Inquirer as they speak about Food Knowledge & The Importance of Research for Food Stories and Ideas, Feature Writing, and Writing Restaurant Reviews. Furthermore, they will also be discussing how to produce a readable and evocative work in order to successfully market it to target readers.
Meanwhile, resource speakers Chef Datu Shariff Pendatun III, Dr. Macario Tiu, and Ms. Lolita Lacuesta will take on an encompassing discussion on Mindanaoan cuisine, its history and socio-cultural narratives, and techniques to utilize its richness strengths to encourage research, promotion, and preservation of our culture through writing. Topics for this segment are as follows:
A Study on the Cuisine of Muslim Mindanao (Chef Datu Shariff Pendatun III)
Documenting The Recipes of The Ten Tribes of Davao (Dr. Macario Tiu)
The Davao We Know: Writing to Record Socio-Cultural History (Ms. Lolita Lacuesta)
Furthermore to these scholarly inquiries on culture and research, the Power of Pen will also address practical techniques to apply food writing specifically to effectively market restaurant offerings, hotel promotions, and travel pitches to both local and foreign spectators. To add excitement and fun, everyone will also be given a chance to write their personal experiences adapting to various scenarios through a writing workshop before the end of the program.
Event Details
Join the Power of Pen this May 19, 2018 at the Training Room, 8th floor, Community Center of the First Companions, Ateneo De Davao University, E. Jacinto St., Davao City from 9:00 AM to 5:00 PM. Take delight in its relishing ideas and discussions on both literary gastronomic explorations.
Registration fee: P1,000 for professionals, P500 for students
To register, please fill-up this form (http://bit.ly/2FSxAFX). For more information, check out STRAM Events, Inc. on Facebook (www.facebook.com/strameventsinc) or their website (www.strameventsinc.com). You may also call (02) 927-7208 or 09063859213.
(Information and Photos from Power of Pen / STRAM Events, Inc.)