Malagos Garden Resort, one of the leading nature parks and resorts in Davao City, is located in Malagos, Baguio District. We recently visited the resort with our family, and let me share with you 5 things we really enjoyed doing at Malagos Garden Resort.
1) Dine at Malagos Garden Resort.
The P650 resort entrance fee includes day tour and buffet lunch at the Coral Pavilion. We enjoyed the food a lot, especially the tuna skewers and isaw barbeque. The meat in their pork barbeque and sinigang na baboy were tender and tasty. The shrimp okoy was a winner, too.
Note: We learned that the resort fee is only P550 for regular days. We visited during the Christmas peak season (December 23, 2017 to January 7, 2018), thus the higher rate.

Desserts included tableya cupacakes, cassava cakes, puto cheese, and kutsinta. They also served blue lemonade, iced tea, coffee, and hot tea.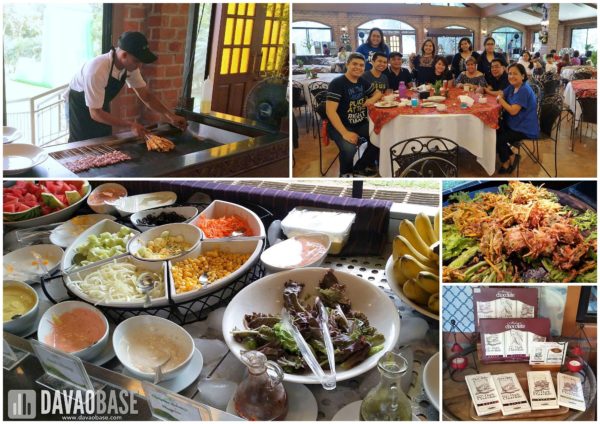 We just had two concerns while having lunch, which we raised to the food attendants. First, the place became too warm with the grilling station inside the pavilion. They had huge wall fans, but they were apparently not enough. Second, there were flies joining our lunch. Installing insect control systems may help.
2) Play at  Malagos Garden Resort.
Malagos Garden Resort has several options for playing. Little kids or adults who just want to chill can do the regular swings. The more daring ones can enjoy the adventure activities, which include wall climbing, tree top rope challenges, bike zipline, and more. Since the challenges are not that high or that long, you may still have energy left to check out the other amenities in the resort.
There are also interesting games for those who don't want to sweat a lot. You can play the giant versions of Jenga, Snakes and Ladders, and Scrabble, or the regular-sized Darts and Table Tennis.
3) Learn relevant science at Malagos Garden Resort.
This has to be my personal favorite. As an educator, an environmental advocate, and a supporter of the promotion, development and deployment of renewable energy, I was pleasantly surprised to see that Malagos Garden Resort actually has bits of science incorporated in their parks and games.
While enjoying the view at the parks, I saw posts carrying information about renewable energy and non-renewable energy as well as information about energy in motion and energy at rest.
Also, at the kids' corner inside the Malagos Chocolate Museum are games that include images and details about climate change and how it affected cacao farming. It's a fun way to introduce climate change, one of the most critical concerns the world is facing right now, to young learners!
4) Make your own chocolates at Malagos Garden Resort.
The Malagos Chocolate Laboratory is one of the most popular highlights of a Malagos Garden Resort trip. This is where you can prepare your own chocolates!
For PhP 450, you can get:
a mini pitcher of chocolate,
2 molding trays,
a small dish for your choice of ingredients to mix with your chocolates, and
2 boxes to put your finished chocolates into.
Our nieces gave it a try and chose to add some nuts, marshmallows and chili flakes in their chocolates.
5) Take beautiful photos at Malagos Garden Resort.
The resort is a 12-hectare haven of instagrammable spots. It's a great location for those who enjoy taking selfies with breathtaking backgrounds, for those who simply need a change of profile photo or cover photo in Facebook, or for those who need a lovely setting for their pre-nup photos.
Check out the resort map below to get an idea of what they have at Malagos Garden Resort.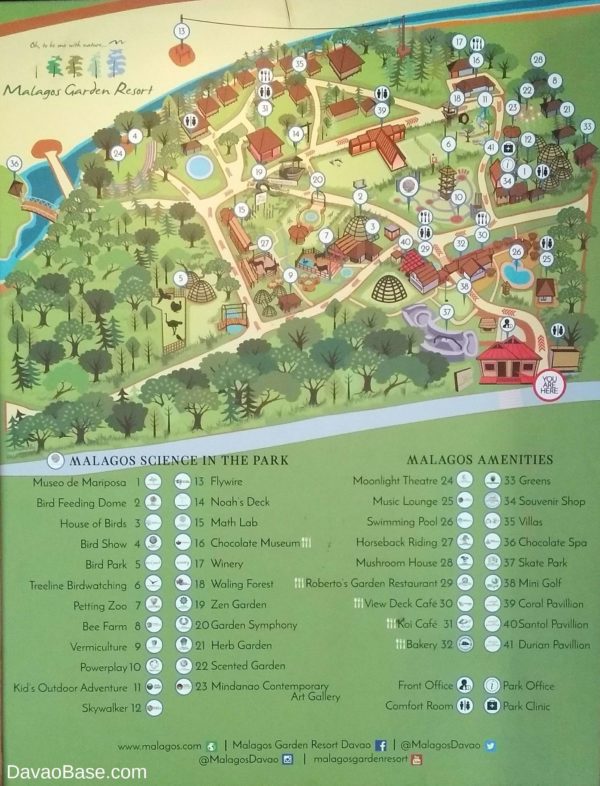 After our first visit, we surely would want to visit Malagos Garden Resort again. We have not seen their famous bird show yet, which they usually hold on weekends (and we visited on a weekday).
For those who want to stay for the night, the resort also offers deluxe rooms, villas and suites. Check below for published room rates.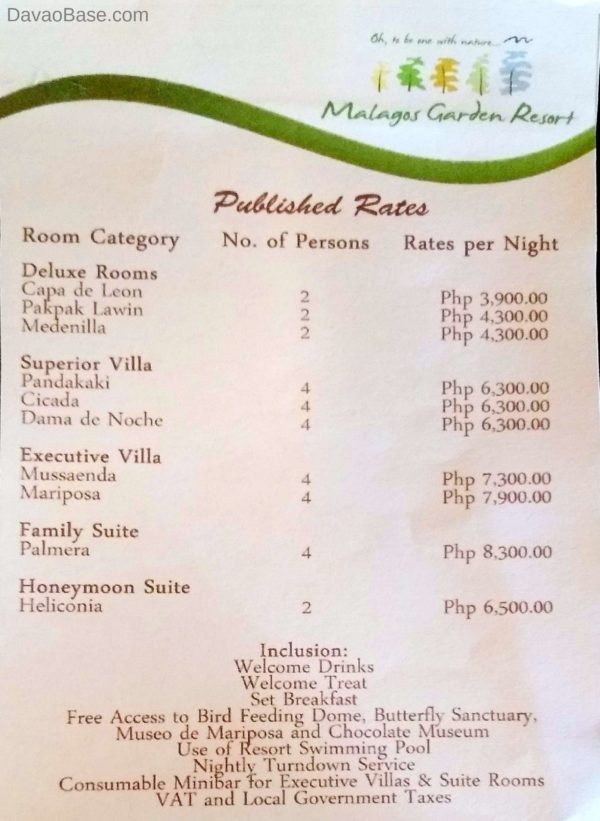 For inquiries and reservations, you may contact:
Malagos Garden Resort
Address: Calinan-Baguio-Cadalian Road, Malagos, Baguio District, Davao City
Tel: (+63 82) 221 1545
FB: https://www.facebook.com/malagos.garden.resort/