Although Davao is known for its durian, the city is also abounding in other fruits and various kinds of vegetation. That is why we celebrate Kadayawan Festival every August as gratitude for the natural blessings that our city is receiving.
Apart from the King of Fruits, another popular fruit in Davao is the banana. The popularity of this soft and tummy-filling fruit can be seen through the sheer number of banana vendors all over the city, even down to the streets.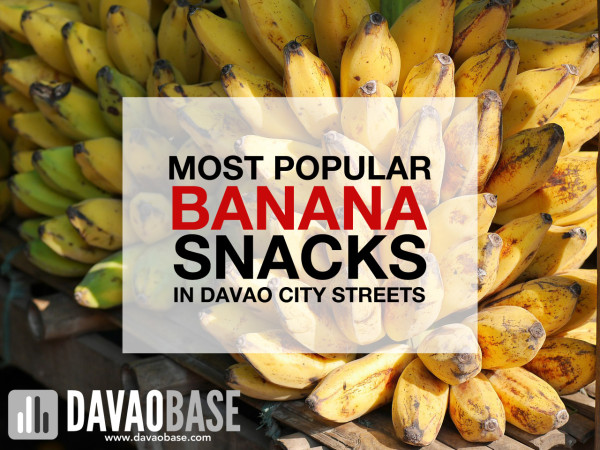 If you are a fan of eating saging in Davao, then you probably know these four popular banana snacks in Davao City streets. If you're not familiar with these dishes, then let this article be your Davao Saging Glossary 101!
Ginanggang
Grilling is big in Davao and the rest of Mindanao, so why exempt bananas? Ginanggang is basically banana cooked on a charcoal-fired grill. The banana pieces are coated with margarine and white sugar and skewered with bamboo sticks before placed on the grill. The result is a flavorful and steaming hot banana with a buttery and sugary aroma.
Ginanggang originated from Mindanao, and some articles say that this dish came from the Davao region. Wherever it came from, ginanggang is beloved by Dabawenyos as a street food staple.
Maruya / Banana Cue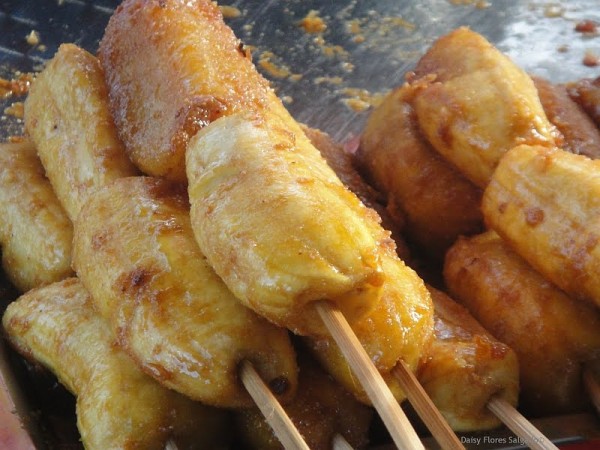 Considered as the poorman's snack, the banana cue has filled tummies of Filipinos everywhere in the country. This classic Pinoy banana snack takes its name from barbecue, which is likewise skewered with wooden or bamboo sticks. Banana cue is prepared by drizzling the banana pieces in brown sugar and then deep-fried until the sugar caramelizes. Variations of this banana cooking style include dousing more sugar while the bananas are deep-fried so as to create a crusty sugar crust, or sprinkling sesame seeds right after cooking.
Pinaypay / Banana Fritter
Banana fritters are known by many names and shapes in many parts of the world, but the Filipino version is called pinaypay. The whole banana piece is sliced lengthwise four or five times but with about 1 inch of one end left unsliced. The result is a fan-shaped banana, which is then dipped in flour batter, deep-fried until crispy, and sprinkled with (or rolled in) white sugar.
Based on several trips to banana cooking stations in Davao, I noticed that the vendors usually run out of pinaypay first. It could be either of two things: the vendor doesn't sell too many of this banana snack variant, or Dabawenyos just like pinaypay more than banana cue.
Turon / Banana Spring Roll
Arguably the most sosyal of the four popular banana snack variants, turon consists of sliced banana and jackfruit (langka) wrapped in lumpia wrapper. The wrapped pieces are coated with brown sugar and deep-fried for a few minutes until the exterior becomes crispy. Turon has been modified countless of times by several fine-dining restaurants and standalone coffee shops in Davao, most notably
Kasagingan Kapehan
and
Saging Repablik
. Have you tried turon with Belgian chocolate or Turon a la mode (with ice cream)?
————————-
These four banana preparations are commonly found in Davao City streets, but there are many other ways of cooking saging. How do you like them bananas? Sound off in the comments below!
P.S. Banana in Davao comes in various varieties, but the most commonly used variety for these four dishes is saba. This banana variant is so common and abundant that you can even enjoy it just by boiling some pieces in water and dipping them in sugar or oyap!