Dabawenyos are talking about the new foodie destination in town that offers bananas (saging) in different creative ways — Saging Repablik.
Saging Repablik, located at Tionko Ave. corner V. Mapa St. (fronting Kangaroo coffee shop and OMF Literature bookshop), became a popular topic in social media conversations due to its fun #createyourownbananacue offering.
For P55, you get to choose a spread or a dip plus 3 toppings to add to your regular banana cue. I tried it myself and chose Nutella as my spread and almonds, choco chips and white choco chips for my toppings.
The restaurant offers:
– rice meals like Spare Ribs with Banana BBQ Sauce (P245), Sisag – Sisig and Saging (P175), Sabagnet (P195), Humbanana Cue (P210), Pochero con Saba (P235), Beef Tenderloin Salpicao (P255), and Fried Bangus Belly (P175);
– sandwiches like Pulled Pork Adobo Pandwich (P155), Fish Burger Pandwich (P165), and Bagnet Pandwich (P175);
– pasta like Pasta ala Cubana (P175), Seafood in White Wine Cream Sauce (P210), and Seafood Arabiatta (P210); and
– desserts like 3-pc Turon (P75), Bancake or Banana Cake Souffle with Latik (P105), and Gigingka (P80 for plain, P95 for with Speculoos).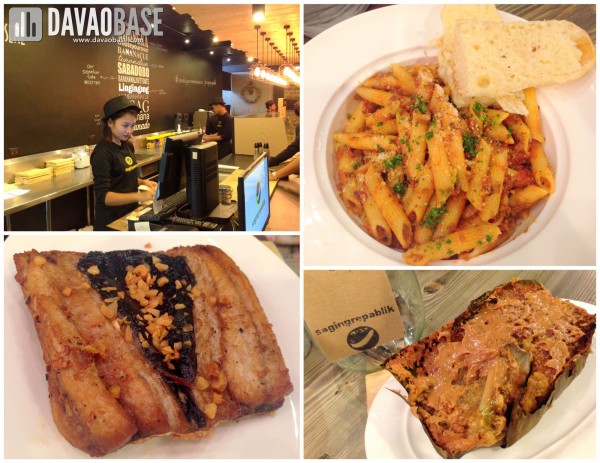 Saging Repablik also offers a wide range of beverages: hot drinks, iced drinks, sagrepuccino or ice-blended drinks with espresso, sagrepuccino cream or ice-blended drinks with cream, gigingkoolers or cold drinks with fresh banana, as well as soft drinks and beers.
At the left corner of the store, Saging Repablik sells shirts, bags, mugs and other merchandise.
Saging Repablik
Tionko Ave. corner V. Mapa St., Davao City
Contact No: (63 82) 285 9648