The saging is trending these days! A lot of Dabawenyos are talking about the new banana-themed restaurant Saging Repablik, and the city's breakfast capital TAPS has a banana haven of its own too.
TAPS has been a popular foodie destination for almost 3 decades now, serving all-time favorites tapsilog, tosilog, primasilog, bangsilog, and more. In our recent late dinner stopover at TAPS in Matina Town Square, though, we saw that it now serves an array of banana-based desserts!
Here is a list of their desserts with prices:
Sawsaw Banana – P125
Sawsaw Banana Jr. – P70
Extra Dip – P30
Banana Split – P110
Maruya Supreme – P100
Turon – P65
Banana Cobbler – P55
Banana Crumble – P35
Banana – P10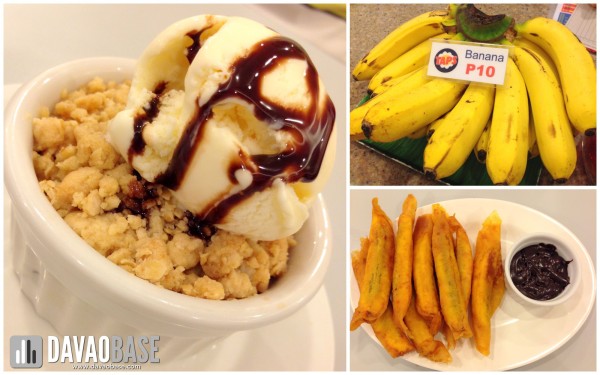 We ordered the Banana Cobbler, made of hot banana-infused pastry topped with cold vanilla ice cream, and Sawsaw Banana Jr., made of banana slices in lumpia wrap with Belgian Chocolate dip (other choices: Caramel, Vanilla Custard) on the side.
TAPS Branches
TAPS MTS Branch
Matina, Davao City
Contact No: (63 82) 305 0164
TAPS Bolton Branch
Bolton Street, Davao City
Contact No: (63 82) 300 8277
TAPS Damosa Branch
Lanang, Davao City
Contact No: (63 82) 302 8081
TAPS Duterte Branch
Duterte Street, Davao City
Contact No: (63 82) 305 4090
TAPS Palma Gil Branch
Palma Gil Street, Davao City
Contact No: (63 82) 305 0114
TAPS Sta. Ana Branch
Sta. Ana Avenue, Davao City
Contact No: (63 82) 305 0667