For a Dabawenyo who has been living in Davao City since childhood, I have witnessed several developments in my hometown. Back in the day, there were fewer city regulations and not much violence in the country.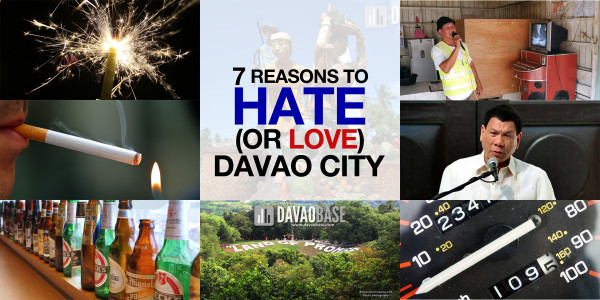 Fast forward to today, city residents and visitors have experienced various changes that have molded Davao City into the place that it has become. A lot of characteristics about the city — ordinances, local governance, tourism — have generated differing opinions. Some like the changes, some hate the way Davao is shaping up to be, while others are just going with the flow.
Here are seven features of Davao City that have created either cheers of delight or screams of disgust from Dabawenyos and tourists. I urge you to do a self-check on each of these city features: Hate them or love them?
1. No Smoking Ordinance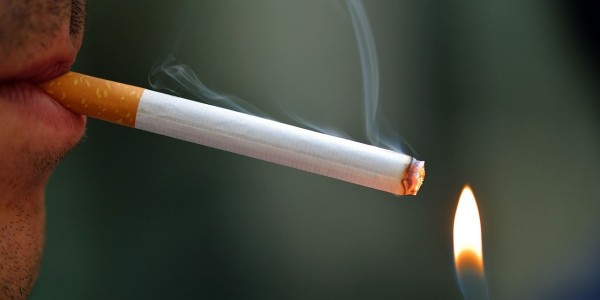 Smoking in populated areas is restricted in many cities in the Philippines, but Davao City was one of the first localities to strictly implement a citywide smoking ban on public places, complete with skyrocketing fines.
The Good: Non-smokers, rejoice! You don't have to cover your noses in jeeps and restaurants just because someone is smoking nearby. Plus, it's a good opportunity for smokers to kick the habit and have healthier lungs.
The Bad: People who are visiting Davao City for the first time might not be familiar with the ordinance, and may find themselves being slapped with a hefty fine once they light their first cigarette. This might put off some tourists who cannot survive without smoking.
The Middle Ground: If you really need to smoke, you will have to do it in your place of residence or a designated smoking area (which, unfortunately, is difficult to find in some areas of the city).
2. Firecracker Ban
Many skeptics thought that the city ordinance on firecrackers and pyrotechnics would just go up in smoke after its first implementation in 2001. But several New Years after, the ban is still in full effect, thanks to the effective local governance and the unwavering discipline of Dabawenyos.
The Good: Minimal to zero injuries due to firecrackers! Your fingers are probably going to love you more, when you're living in Davao City.
The Bad: It's awfully quiet and dark in many areas of the city during the New Year's Countdown.
The Middle Ground: You can always go for alternative ways to celebrate the New Year. You can join the annual Davao Torotot Festival, with the sound of hundreds of blazing trumpets being a worthy successor of firecrackers. Personally, I'm still hoping that Davao City can witness a fireworks display for the New Year (to be done by the city government alone), probably in Magsaysay Park or overlooking Samal Island.
3. Speed Limit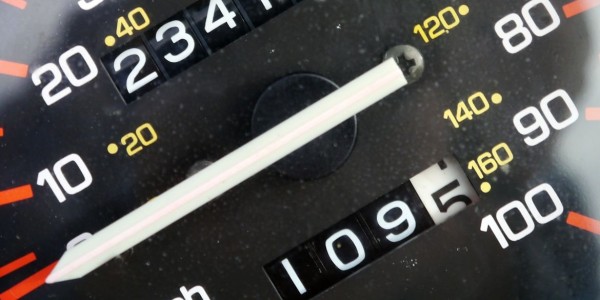 Driving around the city has become a lot slower because of the speed limit ordinance. You can only go as fast as 30 kph downtown, and a maximum of 60 kph in the city borders.
The Good: The notoriety of uso-uso jeepneys and abusive vehicle owners has screeched to a halt because of the ordinance. Compared to past years, vehicular accidents due to overspeeding have become rare as of late.
The Bad: Very… slow.. movement… of… vehicles. That's bad news for people catching commute and hoping not to be late for work or school. Car owners will probably get frustrated driving on a Sunday afternoon in Lanang or Cabaguio because they cannot speed up even though the street is wide open. Plus, you cannot flaunt the power of your Porsche or Maserati if you're forced to run in the same speed as a tricycle!
The Middle Ground: There's really no compromise for drivers; you have no choice but to stick to the speed limit. For commuters, it's best to start your day early so that you'll have enough leeway and arrive at your destination in time.
4. Liquor Restriction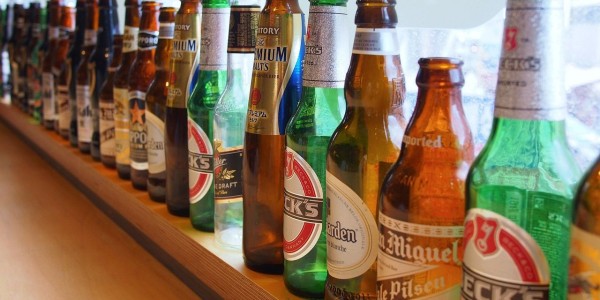 The curfew in selling and serving alcoholic beverages (from 1:00-8:00 AM) took effect in 2013 after amending the original 1994 liquor ban. The liquor ban has definitely changed the way Dabawenyos party in the wee hours.
The Good: The ordinance was designed to reduce accidents and crimes caused by alcohol intoxication, and it seems to be working. Walking in Davao City streets has become significantly safer with less drunkards roaming the city.
The Bad: Davao partyphiles and alcohol lovers find themselves restricted to enjoy the nightlife. It has also caused several establishments to close shop for violating the ordinance, leaving fewer destinations for tourists to visit at late night.
The Middle Ground: There are a lot of other reasons to stay up late in Davao without liquor. You can drink several rounds of caffeine in various coffee shops around Davao, dine in 24-hour fastfood restaurants, or enjoy alcohol-free videoke.
5. No Videoke In Public?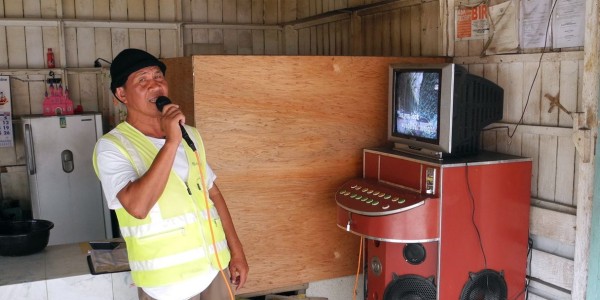 An ordinance signed in 2006 restricted videoke usage in public establishments until 10:00 PM only, unless they can muffle the sound so that it won't escape the confines of the building. Meanwhile, the Anti-Nuisance Ordinance extends the coverage of the loud noise prohibition to any place within the city, apparently including residential areas.
The Good: Thank this ordinance for quieter neighborhoods! It's nice to enjoy your living spaces without the blaring noise of your neighbor's videoke machine.
The Bad: Some argue that restricting a person's intention to sing "No Arms Can Ever Hold You" on videoke goes against the right to free expression. If you're heartbroken or lonely at home, you will have to let go of videoke as your go-to therapeutic release.
The Middle Ground: If you really want to belt out your favorite tunes, you can head to a wide array of videoke bars authorized by the city government to operate. Or, you can find another way to vent out your emotions aside from singing.
6. Expansive Land Area
Identified as the largest Philippine city in terms of land area, Davao City is home to a wide array of destinations reachable by land. There's a big chance that you will find your favorite hobby, passion or sport in Davao.
The Good: You can enjoy the beach at sunrise, have lunch on a mountaintop overlooking the city, visit nature and wildlife parks in the afternoon, and drop by downtown for urban nightlife. All in a day!
The Bad: You might not be able to visit every landmark Davao destination in a single day because of the lengthy travel that you have to endure. For instance, you will have to travel roughly 40 km from Eden Nature Park to Sasa Wharf if you're planning to visit Island Garden City of Samal.
The Middle Ground: If you're planning a vacation in Davao, stay at least three days so that you can cover most of the worthwhile tourist attractions. It might be best to travel around the city using a private vehicle, but you can always be adventurous and ride public transportation.
7. The Duterte Factor
Davao City has become known as the turf of the Duterte family, most notably longtime city mayor Rodrigo Duterte. His children — former mayor Sara Duterte-Carpio and current vice mayor Paolo Duterte — have also served the local government. The Duterte brand of governance has divided not only the city but also the nation, with some people opposing the iron-clad city management and others praising it.
The Good: As a result of the rock-solid political will of Mayor Duterte and the general public's acceptance of his style of leadership, Davao City has evolved into the safest city in the Philippines with the lowest crime rate and the highest security index (based on 2015 worldwide figures by Numbeo). Where else in the country can you roam around the streets at night with confidence that you're going to be safe? Only in Davao!
The Bad: For starters, if you're planning to do something unlawful or illegal in Davao City, then be sure that you're ready to face the wrath of Digong! Duterte is very keen when it comes to implementing city regulations, and there are times when violators had to deal with him personally. His public comments about killing criminals have been criticized by human rights activists and even the Office of the President, and have somehow painted Davao as an ultra-restricted city.
The Middle Ground: The public perception on Mayor Rody Duterte is still very much open to debates, especially now that his name is rising as one of the top presidential candidates in the 2016 National Elections. Love him or hate him, Mayor Duterte probably won't care, as long as Davao City remains to be a safe place to live in.
————————-
Which ones do you love and which ones do you hate? However you feel about these things, I still hope that you will find Davao City to be a worthwhile place to visit or live in.