Let's make some noise, Davao!
The first ever Davao Torotot Festival — happening from 1 PM of December 31, 2013 to 1 AM of January 1, 2014 along Roxas Avenue — aims to gather around 10,000 torotot blowers to make noise in welcoming the New Year and break Japan's record of 6,900 in the Guinness Book of World Records.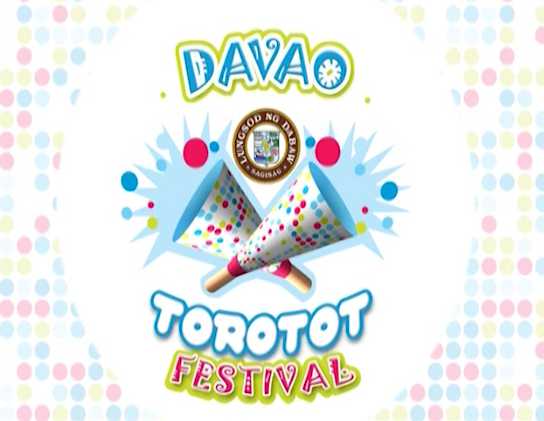 The record-setting event, where participants will have to blow their party blowers or torotots for 10 seconds, will take place on the night of December 31.
To make it even more fun, prizes will be given to the biggest and the most creative groups. The village with the highest number of torotot blowers will get P50,000 (first place), P30,000 (second place) and P20,000 (third place). The group with the most creative torotot will get P25,000 (first place), P15,000 (second place) and P10,000 (third place).
The Davao Torotot Festival is powered by telecommunications giant SMART. There will be performances by SMART event winners, local celebrities and bands, as well as inter-barangay contests, games and activity booths. SMART will also be providing free Wi-Fi connection for all, plus special discounts and promos during the event.
Check below the re-routing scheme issued by the Traffic Management Center to give way to the Davao Torotot Festival.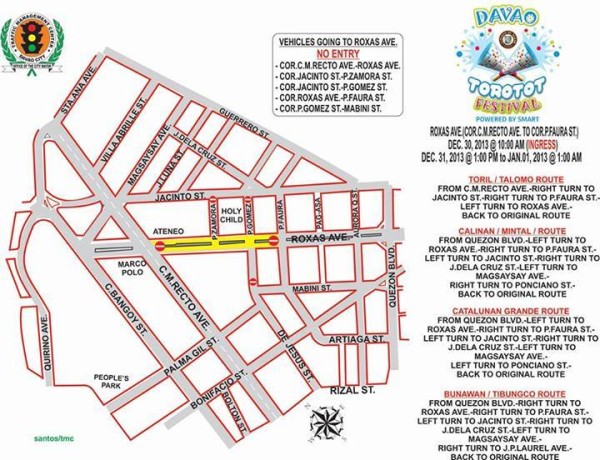 We may not have fireworks and firecrackers here in Davao due to City Ordinance No. 060-02 Series of 2002 that prohibits the "manufacture, sale, distribution or use of firecrackers or pyrotechnic devices" within the city, but this year, we won't be silent any longer.
Gather your family, friends, neighbors, office mates, classmates and everyone you can think of. Let us torotot our way to a Guinness World Record!