Ice cream never fails to bring back childhood memories. The softness, sweetness and refreshing feeling that you experience on each lick of this cold dessert can definitely take away worries for a while.
I've tried many kinds of ice cream in my lifetime, and the gelato — Italy's contribution to the world of desserts — is one of my favorites. It was a huge opportunity for me to witness how Giardino Gelato makes its gelato, and be able to taste them fresh from production.
Giardino Gelato creates its heavenly ice cream from fresh ingredients and using a Carpigiani ice cream machine. Making the gelato takes three steps: cook the ice cream base in the pasteurizer, churn the gelato by mixing the ingredients in the Carpigiani, and freeze the gelato.

We were able to see firsthand how the ingredients were placed in the ice cream machine. A few minutes after, the Carpigiani started churning out pristine white and ultra-creamy vanilla gelato. After drizzling chocolate syrup onto the ice cream, we got to taste the product fresh from the Carpigiani.
The verdict? Straciatella (vanilla ice cream with chocolate chips) won us over! The ice cream was soooo creamy and with just the right amount of sweetness. It was also refreshing to taste a freshly prepared ice cream.
We also got to try other unique gelato flavors, most of which are not yet sold by Giardino Gelato in its shop at the second level of Abreeza Mall — Chocnut, Reese's Nutrageous, Sesame, Durian, Rhum Raisin and Appletini.
I was particularly giddy with excitement for the Banana Sorbet, and Giardino did not disappoint. It's the ultimate high for a banana lover like me! Wifey was also extra happy to try the Durian gelato, made especially for the Davao market, although she initially preferred a stronger durian flavor in it. We later found out that they had to bring down the flavor intensity to manage the strong smell, which could affect the other gelato inside the display.
What's interesting about the fruit sorbet — which also comes in mango flavor — is that the only ingredients mixed into the machine are fruit, sugar and water.  No milk? Some of us thought that the sorbet would feel icy and crystalline in the mouth. I was so amazed because the sorbet was still creamy like it had dairy mixed in it, and it had absolutely no ice crystals.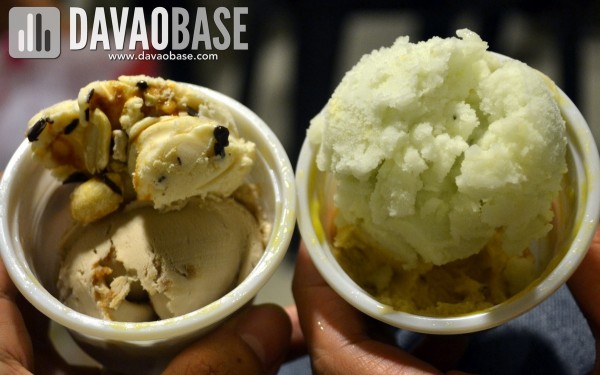 Giardino Gelato has fired up my love for ice cream anew. It made me realize that ice cream can be adventurous with its flavors, but still be relaxing and refreshing to the palate.
————————————
Giardino Gelato
Second Level, Abreeza Mall
J.P. Laurel Avenue, Bajada, Davao City
Mobile 09228662491