Filipinos working overseas are normally away from their families for years before returning home. During those days that they're abroad, toiling away to earn a decent living, they miss out on a lot of important family moments. It's a huge sacrifice, which they are willing to do because they want to provide a good life for their families.
A recent survey on OFWs conducted by Philam Life reveals that the top three goals of the average OFW is to set up a business, own a house, and to put their children through college. Many OFWs have been working abroad for many years. But when asked about their readiness to stay home permanently, 82% of the survey respondents said they are not ready to stay home for good for two main reasons: 1) They do not have enough savings; and 2) Their goals have not yet been realized.
The study also shows that an OFW wants to accumulate an average of three million pesos to feel he is ready to come back for good; and that it would take the average OFW up to 18 years to save up that amount. Savings are predominantly for emergencies, likewise reflecting their worry of getting sick, losing one's job, being struck by calamities, and not being able to provide for the family.
"Our studies show that OFWs invest their hard earned money in order to be prepared for some of life's undesirable surprises," said Philam Life Zone Headfor Visayas and Mindanao Rolan H. Enriquez. "Many people think that properties, jewelry, and cars are forms of investment. However, these items will usually have to be liquidated at a loss in times of emergencies. We believe there are better tools at their disposal to ensure that their time spent abroad doesn't go to waste," said Enriquez.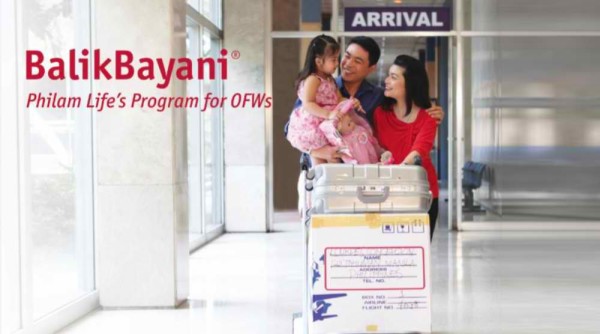 Given this need to promote financial literacy among OFWs, Philam Life has introduced the "BalikBayani Program," a nationwide financial literacy program designed to help OFWs secure their financial future so they can be reunited with their families sooner, and for good. Through the program, OFWs will learn the basics of insurance and financial management. They will also be able to create their personal financial plans, and will receive continuous advice and guidance for free through Philam Life's trained Kabalikat financial advisors.
"OFWs have sacrificed a lot of time away from their children. We want to make all those years of labor and sacrifices count," said Philam Life Director of AgenciesCary C. Casipit. "So, last year, we overhauled our efforts in helping OFWs.Through the BalikBayani Program, we will help them better understand how they could use the money they've earned to live a comfortable future in the Philippines," he continued.
In conjunction with the study, Philam Life also produced an OFW video, with the aim to have a deeper understanding on the plight of OFW families. The video uncovers how children really feel about having their parents away for so long. While the pasalubong is very much appreciated, what really matters to them is the presence of their parents. The video will be shown to the public through client forums and will also be posted online via Youtube.
For the OFWs, a part of expressing love is to make necessary sacrifices to be able to achieve their ultimate goals. It is to do what they can and what needs to be done to provide a better life for their families.
"These real life circumstances will only count if the sacrifices will materialize into a secured future. Philam Life understands the real life situations and needs of OFWs. Through the Balikbayani program, Philam Life provides customized plans and the right solutions to enable OFWs to achieve their long term goals, address their fears, and finally come home to their families for good," Enriquez concluded.
For more information on the Philam Life BalikBayani Program, please visit http://www.philamlife.com/en/individuals/products-and-services/ofws/.
[Press release from Philam Life]