While we love regularly getting massages, we haven't really tried stone massage until our recent visit to Solaz Massage and Spa, located on the ground floor of Ecoland Suites Building, just outside the compound of SM City Davao.
The place was quiet, relaxing and very welcoming. We were led to our massage beds after waiting for only a couple of minutes, and we were impressed with how spacious and well-arranged their massage area is.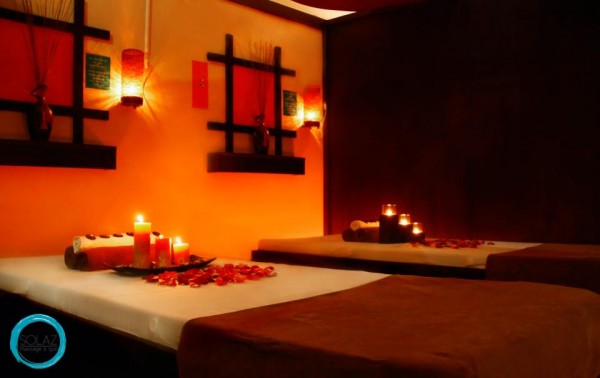 How was the massage? Piedra (Solaz's heated stone massage) provided different experiences for Chito and me. He loved the massage accentuated with the application of heat through the smooth stones, while I felt the massage (which was good) without the heated stones would have suited me better. We will be back for sure (have I mentioned we love getting regular massages?), but I think I'll have the Sueno next time.
Solaz offers the following services (descriptions lifted from their flyer):
Sueno – an aromatherapy massage customized to meet your specific needs, Solaz's signature massage loosens tight muscles, relaxes the mind and increases circulation of the blood
60 minutes — P250
90 minutes — P350
Piedra – smooth, heated volcanic stones are applied to the body in a pattern that restores and renews the muscles of the body and soothes the mind
90 minutes — P350
120 minutes — P430
Paseo – take a load off your tired feet with Solaz's one-hour foot massage
60 minutes — P200
Ventosa – ventosa massage cupping therapy is performed by placing cups on specific acupoints on your back, that helps alleviate pain, removes toxins, and allows the body to feel rested after the session
60 minutes — P300
Solaz is open from 2:00 PM to 1:00 AM daily.
————-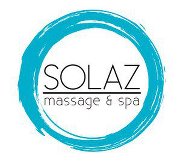 Solaz Massage and Spa – Buhangin Branch
Ground Floor, Gimenes Building, Buhangin Road, Davao City
Tel: (082) 3019821 / 0923-9850878
Solaz Massage and Spa – Ecoland Branch
Ground Floor, Ecoland Suites Building, Ecoland, Davao City
Tel: (082) 3024255 / 0933-4091655