As I was driving along C. Bangoy Street (i.e. Ponciano Reyes Street), I came across this massive van with the label "Philippine National Police CBRNE". After a quick online search, I discovered what this heavily tinted PNP CBRNE van is all about.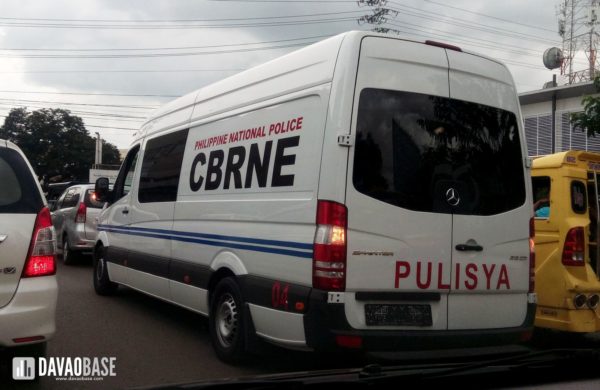 What Is CBRNE?
CBRNE is an acronym for "chemical, biological, radiological, nuclear, and explosives", which the PNP identifies as some of the biggest threats in the world. In the international scene, CBRNE may be pronounced "SEE-burn" for verbal convenience.
Any substance that is dangerous and can hurt lots of people may be considered a CBRNE material. In recent times, CBRNE materials have become ingredients of weapons of mass destruction.
What is the PNP CBRNE Van?
In a 2015 article, General Ricardo Marquez (who previously worked as Philippine National Police Chief Director, before General Ronald "Bato" dela Rosa) released a statement about the police force's acquisition and deployment of new CBRNE vans for the Manila meeting of Asia-Pacific Economic Cooperation (APEC) leaders.
In contrast to portable or mobile equipment to address high-risk cases, PNP CBRNE vans increase the potential of law enforcers to detect and prevent dangerous materials from entering key national events.
Why is the PNP CBRNE van in Davao?
Although there have been no official announcements from Davao City police regarding the use of this critical vehicle, the PNP CBRNE van was spotted in Davao City around the same time of ASEAN 2017 activities in the city. The huge vehicles are probably part of the ongoing operations of the PNP to strengthen security in line with the milestone event.
If you ever see this van somewhere in the city, rest assured that public safety and security is at its peak.