Amidst the dominance of Chinese and Japanese restaurants in the city, Vietnamese food is starting to capture a significant chunk of the Dabawenyo foodie market. For years, Hanoi Vietnamese Cuisine has been in the business of bringing the best of Asian food by inviting Dabawenyos and tourists to "Taste Vietnam In Davao".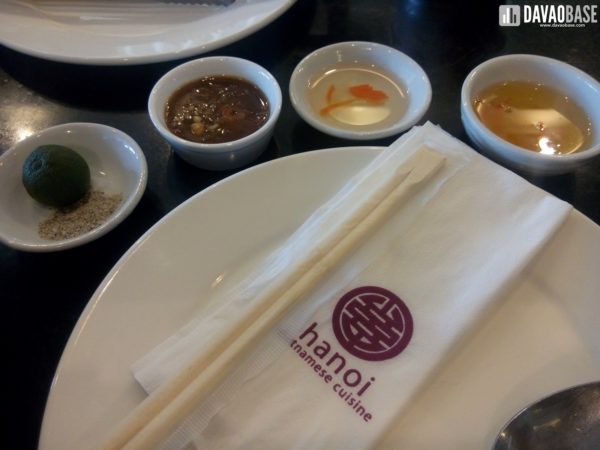 Aside from its original location beside Casa Leticia Hotel in J. Camus Street, Hanoi's new branch at the ground floor of Abreeza Mall lets Dabawenyos experience the signature flavors that Vietnamese cuisine is known for.
Best Dishes at Hanoi Vietnamese Cuisine
I'm sure you're here for our review on Hanoi Vietnamese Cuisine, so let me share with you my first dining experience featuring the mouth-watering dishes at Hanoi:
Goi Cuon
Fresh spring rolls with shrimp, pork, herbs, and vegetables wrapped in rice paper and served with Hanoi's peanut sauce

Cha Nuong
Vermicelli noodles, grilled pork barbecue, pickled carrots, radish, lettuce, cucumber slices, and basil leaves served with rice paper sheets and dipping sauce on the side
You have the option to make your own Cha Nuong! You will be presented with a platter of the ingredients needed for Cha Nuong, and all you need to do is assemble them like a true Vietnamese roll expert.

Don't forget the savory grilled pork barbecue that you can eat from the stick or put in your Cha Nuong creation!

Banh Cuon
Pork, mushrooms, and fresh vegetables rolled in a thin and delicate rice paper, garnished with deep fried onions and chopped lettuce served with a dipping sauce
Banh Khot
Small fried Vietnamese pancakes with vegetables and herbs on the side, served with Hanoi's special sauce

Hu Tieu Tom Thit
Shrimp, pork slices, squid, quail egg, and a variety of fresh vegetables served with vermicelli noodles in a richly flavored pork broth

Banh Mi
A healthy sandwich of baguette, mayonnaise, liver paste, fresh herbs, vegetables, and choices of flavorful meat. Choices: Grilled Chicken, Grilled Pork Barbecue, and Cold Cuts

 Cari Gio Heo
Crispy pork knuckles in a flavorful curry sauce

 Com Tay Cam Ga
A hot pot of tender chicken slices, mushrooms, onions, snow peas, leeks, and rice

 Garlic and Butter Crabs
Crabs stir-fried in butter and minced golden-brown garlic

 Vietnamese BBQ Platter
 A platter of Vietnamese grilled stuffed squid, pork, and chicken, marinated in flavorful herbs, spices, and lemongrass

Check out the closeup shot of this beautifully grilled chicken barbecue! The BBQ platter is served with an array of signature Vietnamese dips and sauces.

Here's a closer look at the tender grilled stuffed squid, in its majestic beauty:

 Durian Pie

Citrus Herb Juice

Vietnamese Coffee
Drip brewed coffee sweetened with thick condensed milk

As a self-confessed foodie, I realized that this was my first time to eat authentic Vietnamese food. My verdict: Me likey! I can't wait to get my hands on Hanoi's delectable rice paper rolls, curry-infused crispy pork knuckles, and flavorful grilled dishes.
Hanoi Vietnamese Cuisine
First branch: J. Camus Street, Davao City (beside Casa Leticia Inn)
Second branch: Ground Floor, Abreeza Mall
Phone (082) 285-2887
#TasteVietnamInDavao #HanoiDavao
[Food descriptions courtesy of Hanoi Vietnamese Cuisine]