Online shopping from the Philippines has evolved as one of the biggest breakthroughs in 2016, as more Filipinos have trooped to e-commerce sites to buy their needs and wants. A lot of my friends have even used online stores to purchase their Christmas gifts last year, and it's bound to get bigger in 2017.
If you're preparing to shopping online or considering to buy stuff in a new way this year, here are 6 trending websites where you can do your online shopping from the Philippines:
One of the biggest successes in recent years is Lazada, a one-stop online shop for practically anything that online shoppers want to get their hands on — electronics, fashion items, home and living, health and beauty, toys, sports and travel, vehicle accessories, and more.
Lazada's annual Online Revolution is one of the most highly anticipated sale events in online Philippine shopping. Watch out for the 2017 leg in November!
If you're looking for more discounts in Lazada, check out this list from Saleduck.
If you're more into fashion, Zalora is definitely the online store for you. This trending fashion store houses big-named brands such as Mango, Plains & Prints, Penshoppe, Bench, River Island, Superdry, Wallis, Ivy Park, Sunnies, and more.
Here's a tip for Zalora newbies: Subscribe to Zalora's newsletter and enjoy P300 discount on your first order. In addition, you might get more Zalora deals from this page.
One of the biggest up-and-coming online beauty stores in recent years has caught Southeast Asia by storm. Althea is an online store that sells Korean beauty products, as well as fashion items and other trendy bestsellers. Get the most popular products from best beauty brands such as Nature Republic, Skin Food, B&Soap, Laneige, Innisfree, Guerisson, The Faceshop, and more.
New members get a P300 voucher for the first order, and shoppers can enjoy free shipping for purchases above P999. Meanwhile, Saleduck also lists down updated coupon codes and discounts for Althea.
Once known as an auction site, eBay has evolved into an online store where people can buy items in fashion, health, beauty, jewelry, computers, electronics, toys, and home. With its "Buy It Now" feature, you don't have to wait for the auction to finish, because you can already buy the items.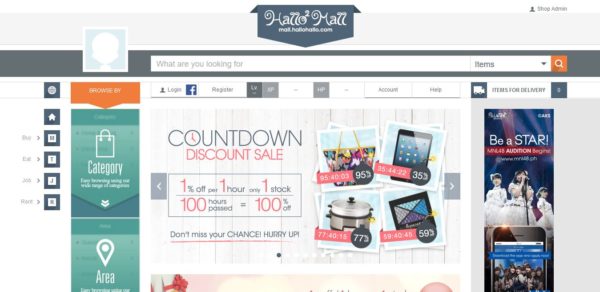 Hallo Mall's entry in the e-commerce world was unique because it provided an opportunity for buyers and sellers to meet in a secure online location to transact.
The store is best known for its Countdown Discount Sale, where items are sold at 1% off every hour. That means, an item can be sold at 100% discount if no one else buys it at the 100th hour!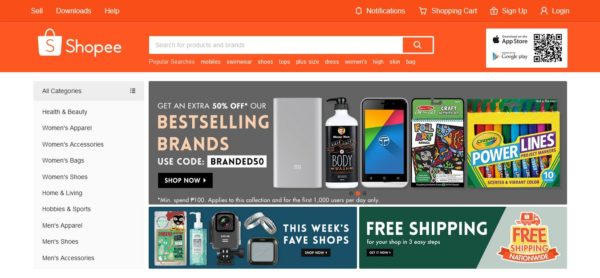 Shopee's mobile-first marketplace approach has caught the attention of online shoppers who prefer browsing using their mobile devices. Shopee may have a smaller inventory than other big-named online stores, but it makes up for a wide array of categories: health, beauty, fashion, toys and children's needs, consumer electronics, home and living, and loads more.
Shipping is free for any item purchased in Shopee.
Is your favorite online store not on the list?
Drop us a comment below to recommend online stores that you think should be included in our list of places to enjoy online shopping from the Philippines. Happy shopping!