Filipinos are known to be very creative when it comes to vocabulary and word usage. This penchant for creating new words and using puns for comedic effect has become infused in our culture and identity.
Dabawenyos have had their share of unique words through the years — budots, atchup boulevard, and sukarap, to name a few. However, what I'll be sharing with you are common English words that locals have associated with specific places and locations in Davao.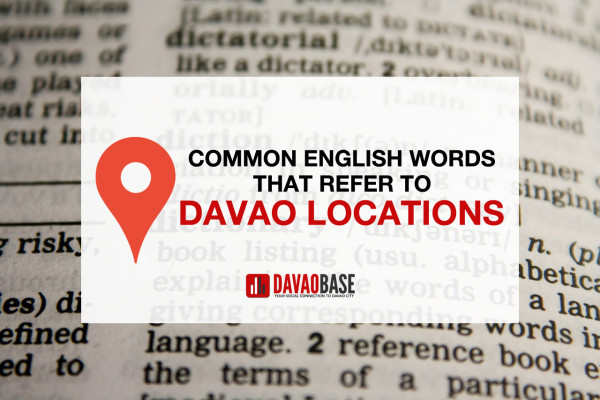 wireless
In the age of mobile networks, the term "wireless" has become fairly common for people who work in the IT industry or stay in coffee shops with WiFi. In Davao, however, this term refers to — surprise! — the Davao City Public Cemetery. According to this news report, the public cemetery has been given this monicker because of its proximity to the Telecommunications Office.
In case you want to drop by and visit the place for the first time (for some strange and eerie reason), you may start from Bankerohan Public Market along Magallanes / A. Pichon Street. Work your way up to the uphill incline passing by the University of Immaculate Conception. However, if you really want to test the truth behind this monicker, try riding a taxicab and tell the driver that you're going to Wireless.
boulevard
Metro Manila has Roxas Boulevard, while California has Santa Monica Boulevard. We in Davao have our own version and we call it… well, "boulevard".
This strangely simple name for a Davao City location is a long strip of a street that runs more than 7 kilometers. One curious fact about this long road is that it's called by different names based on where you are exactly in this part of Davao City. Here's a shortlist of names that refer to this road called "boulevard":
Quimpo Boulevard: From crossing McArthur Highway to Bolton Bridge (after Agro-Industrial Foundation College)
Quezon Boulevard: From Bolton Bridge to Magsaysay Park
Leon Garcia Street: From Magsaysay Park to Agdao Flyover
Other areas near this vicinity include Piapi Boulevard and Trading Boulevard.
mall
Non-Dabawenyos may refer to "mall" as any shopping complex, but we in Davao have come to associate this term with Gaisano Mall of Davao. I'm pretty sure the Gaisano group of companies doesn't have exclusive rights to the word "mall", but somehow Dabawenyos have been using this term to point to this huge shopping and dining complex along J.P. Laurel Avenue beside Davao Central High School.
flyover
Metro Manila has so many flyovers, while Davao City only has only one two at the moment*. This is probably the reason why the term "flyover" is easily associated with the Dakudao-Buhangin Flyover. This flyover passes over J.P. Laurel Avenue (near Villa Margarita Hotel and Camella Northpoint Davao), and connects Dakudao Street and Diversion Road.
*EDIT: Thanks to Clark and Reissa for pointing out that there are two flyovers in Davao, the other one located in Cabaguio / Agdao.
regional
This may be a fairly common term to refer to any of the 18 regions in the Philippines, but Dabawenyos recognize this as a government hospital named Southern Philippines Medical Center. The medical facility was previously called Davao Regional Medical and Training Center back in 1957, hence the nickname. It has undergone several improvements and name changes before its current name was established in 2009.
diversion
No, this does not refer to a scheme or exit strategy. The term is widely used in Davao City to point to Diversion Road, a long stretch of highway that serves as an alternative road for those who want to avoid the busy streets of Davao. Diversion Road starts from Ulas and ends in Panacan.
This long and winding road is part of the Pan-Philippine Highway (AH26), which connects Luzon, Visayas, and Mindanao in one interconnected network of bridges and roads.
————————————
If you are visiting in Davao City for the first time or are fairly unfamiliar with popular places in the city, we hope these words will guide you on your travails around the city. See you at the mall via the flyover! 😀