Public commute may test our patience and leave us feeling frustrated and tired. I'm sure you've been exposed to the grueling heat and a number of traffic jams in the busy parts of Davao City as you ride public utility vehicles.
Despite the routinary rigors of public transportation, we can always take pride in one of the best people on the road: Davao taxi drivers.
Aside from the fact that our own city mayor Rodrigo Duterte drives a cab at night to patrol the city streets, taxi drivers in Davao have earned a reputation of being noble and honorable service providers. We've read many stories about them on social media, and it's really heartwarming to learn that these salute-worthy drivers carry the Davao brand of service.
Here are just four of the many reasons why Davao taxi drivers deserve recognition:
They give exact change
Paying for the exact amount should really be a given, but why do a lot of taxi drivers in Metro Manila charge more? Not in Davao! When you hand the driver a paper bill more than the fare, expect to be given the exact change down to the last peso. To top that, I have experienced giving the driver a P100 bill for a fare of P82, and he gave me P20 even though he was shortchanged by two pesos!
More than Duterte: Little known facts about Davao City
They return items left in cab
I haven't personally experienced this, but a lot of stories on Facebook described how some honest taxi drivers in Davao went out of their way to return items that the previous passengers left in the cab.
LOOK: Honest taxi driver returns P20k in Davao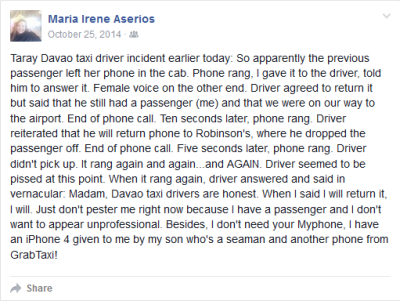 They wait for passenger to enter destination safely
A number of stories shared about taxi drivers who wait for passengers to enter the house before driving away. We've also experienced this many times when we ride a taxi going home. I don't think they're waiting for a tip; they seem to be making sure that passengers are already safe in their respective destinations.
Whether it's a directive of the city mayor or a personal commitment by the driver, this gesture gives Dabawenyos a much more secure experience when riding a taxi.
https://www.facebook.com/liezel.salera/posts/1260678460615584
Most of them don't grumble or complain
Public commute is not always a pleasant experience, but what I appreciate about Davao taxi drivers is the fact that I seldom hear them complain. I have encountered taxi drivers in Metro Manila who grumble in heavy traffic, demand additional payment because of traffic, or speed away when they don't like to go to your intended destination.
In contrast, taxi drivers in Davao sound friendlier (no "tsk, tsk" or frustrated sighs) and never demand more than the intended fare.
————————————
I'm not saying that every taxi driver in Davao possesses all of these great qualities. In fact, I have encountered a few drivers in the past who failed in some aspects. However, I immediately feel at ease thinking that bad drivers in Davao are an exception and not the norm.
So the next time you ride a taxi in Davao and you experience even just one of the reasons cited above, give the driver a sincere "Salamat, Nong!" or a generous tip. I'm pretty sure your gratitude for their service will mean so much to them.
Personal note: I've been meaning to write a tribute to Davao taxi drivers for weeks. I got the push last night, when we rode a Wangertz Taxi and talked to the driver. He beamed with pride and told us how his children paid for his second-hand taxi unit. He even showed us a picture of his family! As he dropped us home, he said "God bless!" Mr. Wong (sorry, we forgot to get his first name), may God bless you as well. Saludo ko nimo! 🙂
[Taxi image by
Petar Milošević
]