Dabawenyo food has been making an impact not only in national news but even in international fare. After featuring the Davao 77% Dark Chocolate Bar from U.S.-based company Askinosie Chocolate more than five years ago, we have encountered another premium-grade Davao chocolate, but this time produced here in our city.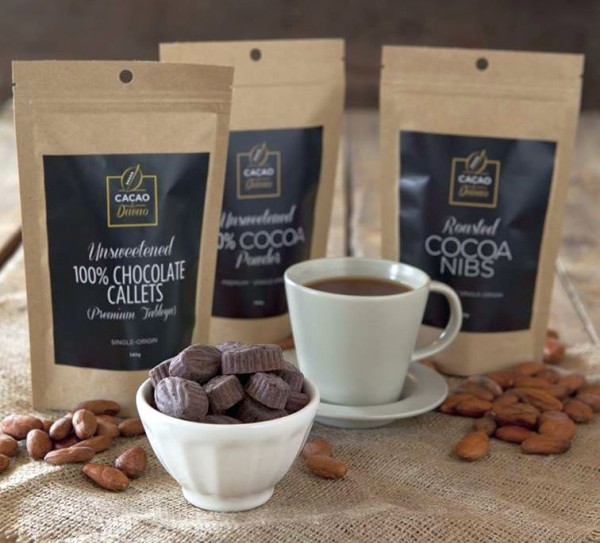 Cacao de Davao offers chocolate products that come from the finest cacao beans grown, harvested, and processed here in Davao.
One of its bestsellers is the Unsweetened 100% Chocolate Callets (Premium Tableya), which is a single-origin product from the Davao region.
As part of Davao Food Appreciation Tour (DFAT) 2014, a chocolate tasting event was conducted by Cacao de Davao for Davao Bloggers to take a whiff and taste the richness of its chocolate products. We were treated to Fudgy Tableya Brownie (with Cacao Nib Brittle Bits), bite-size ready-to-eat chocolates (50% Cacao Milk Chocolate with Cacao Nib Brittle Bits, and Durian Filled Dark Chocolate), and ultra-rich hot chocolate. For a chocolate lover like me, it was a total and absolute pleasure!
I'm so happy that Cacao de Davao — as well as other locally grown companies — are stepping up to the plate and making Davao City's presence felt throughout the world.
Cacao de Davao products are available in their store. You may also find them in ECHOstore branches nationwide (including Davao), Taste Central website, and selected Metro Manila shops (Grocery John, Cocogreen and Co.).
—————————————
Cacao de Davao
San Pedro Extension, Davao City
Mobile 0917 250 2226
Find Cacao de Davao on Facebook
[ First image courtesy of Cacao de Davao ]