Spotlight Workshops, Davao City's most comprehensive workshop on personality development for kids and teens, opens anew on April 28, 2014!

PERSONALITY EMPOWERMENT WORKSHOP (for preteens and teens aged 11 above)
Now on its 4th year, the signature workshop by Spotlight has turned shy girls into student leaders; produced models and beauty queens. In the Personality Empowerment Workshop, participants learn more than just make-up and fashion styling, modeling, acting, and public speaking. The program is about building confidence through self-awareness, self-acceptance, and personal branding. At the end of the workshop, participants will have a fashion makeover photo shoot and star in a runway show, TV commercial, and  music video. The workshop has a 10-part program designed to address the issues and needs of every growing teenager.
ARTISTA WORKSHOP (for kids aged 5 above)
This workshop is not only for kids who want to be in the limelight. As the junior version of the Personality Empowerment Workshop, kids are prepared to perform better in school through theater activities and creative expression exercises. They will be trained how to project in front of people, on camera, and on stage. The workshop will end with a mini-theatrical play featuring the kiddie thespians!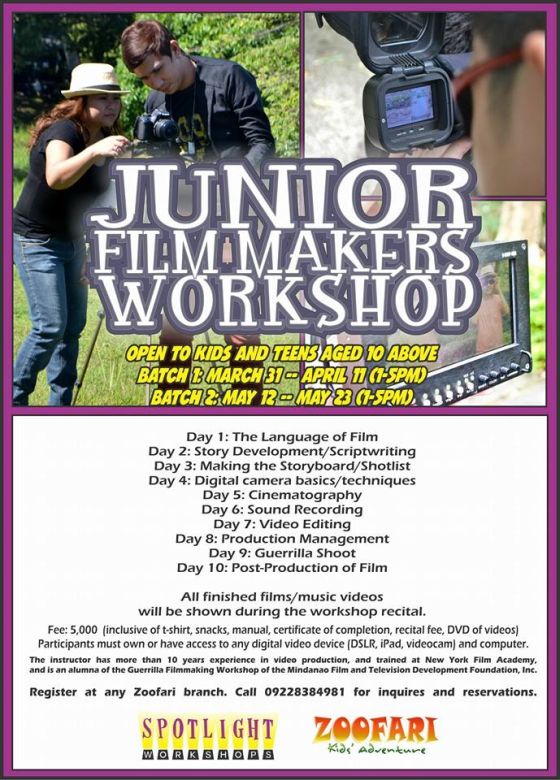 JUNIOR FILMMAKERS WORKSHOP (for kids aged 10 above)
This is a new program offering for 2014. Kids and teens will be trained how to make music videos by a former MTV producer and director. The workshop modules are patterned after the New York Film Academy digital filmmaking short course and the Guerrilla Filmmaking Workshop of the Mindanao Film and Television Development Foundation, Inc. Participants must bring any digital video recording device such as DSLR, iPad, point-and-shoot camera.
For more information, call 0922-8384981 or visit www.spotlightworkshop.blogspot.com
(Text and images from Spotlight)