A lot of seafood restaurants and buffet places have emerged in Davao City for the past few years, and it seems like the trend of enjoying the bounties of the sea isn't going to stop anytime soon.
You might be interested to dive into Bucket Shrimps, a new seafood destination along F. Torres Street. The restaurant opened last April 4, and is steadily grabbing the attention of Dabawenyos and visitors who love to eat seafood.
As you enter the restaurant, you will be greeted by a beach-like atmosphere. The walls are adorned with huge murals that evoke fun along the seaside, as well as decorations that remind you of the waters: corals, starfish, boat and lighthouse replicas, and more. The interiors are splashed with colors of green, brown, blue and white — pretty much the colors that you see in the natural beauty of shorelines.
What's a visit to a seafood restaurant if we don't talk about the food? Bucket Shrimps showcases the best of the sea catch, by serving popular seafood dishes in metal buckets. You may order fresh mussels, clams, crabs, and shrimps steamed and served with any of the following sauces: butter garlic, sauteed in garlic, spicy with coconut milk, crab paste (taba ng talangka), and Bucket Shrimps signature sauce.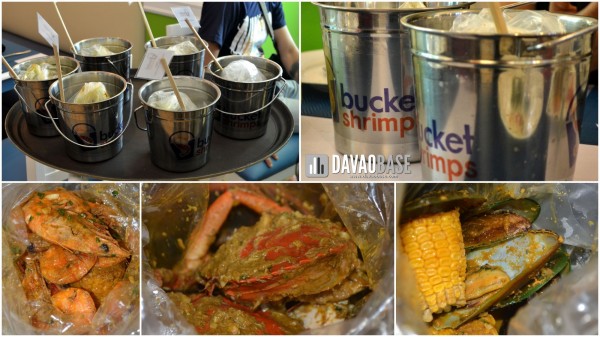 Prices for the seafood buckets are as follows:
Shrimps = P465 per order of 500 grams
Crabs = P130 per order of 100 grams
Mussels = P400 per order of 500 grams
Clams = P400 per order of 500 grams
Oh man, eating fresh seafood was a very satisfying experience. To top it all off, the sauces enhanced the inherent flavors of the seafood.  Of the five flavor choices, I liked the signature Bucket Shrimps sauce the most.
Bucket Shrimps serves an impressive range of appetizers across many types of food. We liked Paco Ensalada with Melon (P50) and Sinuglaw (P195). However, our absolute favorite has got to be Ensaladang Talong (P50). The sweet-sour vinaigrette perfectly complements the smoked flavor of grilled eggplant.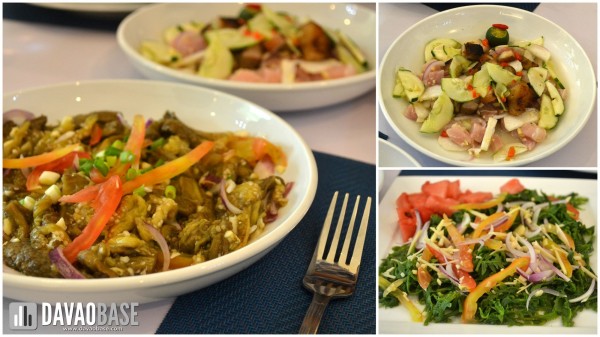 Other dishes offered at Bucket Shrimps include the following (pictured below, clockwise from top left): Tilapia sa Gata (P170), Pinakbet (P110), Crispy Pata (P369 large, P410 x-large), Sizzling Squid (P190), Banana Turon (P60), and Sinigang na Baboy (P130).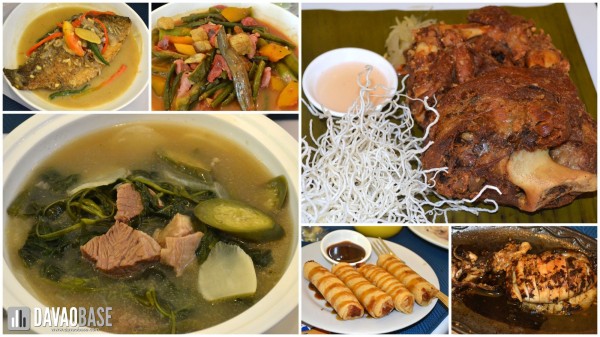 We were also amused by the beverages, because they were all served in adorable round jars. Bucket Shrimps offers a wide array of drinks — juice, tea, softdrinks, and shakes. You may be interested to try these two unique beverages from Bucket Shrimps: Lemon Grass Iced Tea (P65) and Camote Tops Juice (P45).
If the grand opening of Bucket Shrimps was any indication of its future, then we're going to enjoy fresh seafood on our plates for a long time.
——————————–
Bucket Shrimps
Metrolifestyle Complex, F. Torres Street corner E. Jacinto Extension, Davao City
Phone (082) 295-6995, (082) 228-6181
Mobile 09327462815