Campayapaan is a response to the increasing need of peace building education at school level. The camp's aim is to provide set of activities that would further give the participants with a deeper understanding of peace and how it paves way in managing and expressing their emotions in vibrant activities and creative methods.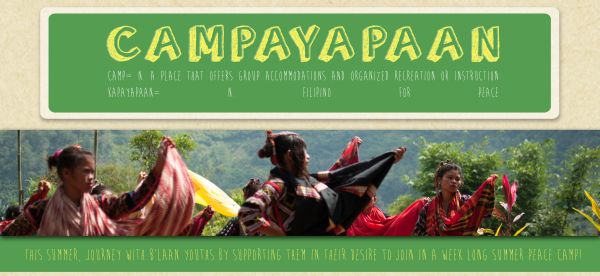 Many young people, despite often adverse circumstances, choose to engage in constructive initiatives and dialogues instead of being the multipliers of hatred and rejection, which fuel prejudice. When supported and recognized in these roles, these young people may become peer leaders and educators, and, in turn, sensitize and involve other young people in dialogues, mediation, intercultural communication, conflict transformation and peace work projects.
The stakeholders are B'laan students of Bacongco Extension High School, Koronadal, South Cotabato. These indigenous children have grown up in regions affected by armed conflicts, being exposed to and/or enduring the consequences of extreme forms of physical, cultural, and structural violence. These children are often confronted with dramatic life-forming experiences, emotions, and challenges. Such experiences may strongly influence the views and behaviors toward their own and other communities, their elation to peace and conflict, and their identity.
As partner and friend who wish to offer voluntary support for Campayapaan, Peacebuilding Education at School Level you can:
Invite your children to join the workshops
Share this post to encourage people to sponsor Campayapaan
Or if you want to get involved directly, you can:
Support a B'laan youth to join the peace camp with a PhP2,950.00 donation
Support ten (10) B'laan youth to join the peace camp with a PhP29,500.00 donation
Send donations to:
Account Name: PEACEBUILDERS COMMUNITY, INC.
Checking Account Number: 007-547-00228-4
Bank Transit: 03026-0166
International Swift Code: MBTCPHMM
Bank Name: Metropolitan Bank & Trust Company
Bank Address:
MetroBank – Ecoland Branch
Quimpo Highway, cor. Eco West Drive
Ecoland District, Davao City 8000
With these efforts, you can support B'laan youth in undergoing the programs in the peace camp including skills trainings that will help empower them in transforming themselves, their families, and their communities.
Participation of Partners and Donor Institutions
As donors and partners, you will be invited to visit the project on April 20, 20014 at Bacongco Extension Highschool, Koronadal, South Cotabato, Philippines.
Your company name and logo will appear in the credits of the digital stories produced after the workshops, the video documentation, and other advertisement collaterals.
For more details, contact SwitoTwins through this page.
Text and images from SwitoTwins