Photos and Text by: April Salazar
It was Jollibee's birthday and we were among the thousands who attended the surprise birthday bash of the country's favorite bee.
A nationwide celebration simultaneously broadcasted through online streaming last September 28, 2013. Thirty five selected live points (including Davao's Jollibee-MTS) were featured during the grand party at Philippine International Convention Center Forum in Manila.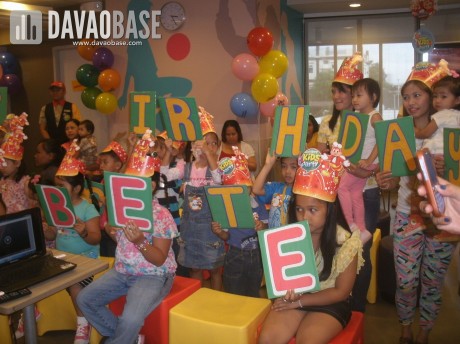 The kids greeted Jollibee with colorful letter boards and candid smiles. They were more than happy to celebrate with Yum, Hetty, Twirlie and Popo through video streaming.
Matina Town Square Party Area was filled with cheers and laughter as Jollibee joined the kids and showed some grooves. Games and action songs made the event even livelier.
Of course, the party wouldn't be complete without food and loot bags.
Before we parted ways, we made sure we had photos taken with the reason for the celebration, Jollibee.
Again, happy birthday Jolibee! Until next time.