Tupperware celebrated its 46th anniversary with lots of special offers, new products and a huge Tupperware party in Marco Polo Davao. The celebration was attended by around 200 managers, dealers and guests.
One of the party highlights was the cooking demo of celebrity chef and Tupperware endorser Marvin Agustin, who shared that his mother was a Tupperware lady. He recalled how he used to help his mom sell Tupperware items and collect payments.
Chef Marvin showed guests how to cook sinigang without adding water using TupperChef Inspire pots, which ensure more flavorful and healthier meals since you use the natural juices found in food thus preserving its nutrients. He also prepared banoffee pie in Tupperware FreezerMates.
Tupperware managers then prepared Pasta Alfredo using the Tupperware Pasta Gift Set. What's the best thing about the cooking demo? Everyone got to taste the banoffee pie and Pasta Alfredo after! Waiters served them in small Tupperware snack cups, which guests got to take home!
Party hosts also showcased the Blossom Microwaveable Serveware. What I personally like about this set is its color and the convenience it can provide to its users.
Organizers also offered to replace any water bottle guests brought with the more durable and reusable Tupperware eco bottle. The eco bottles come in colors Cherry, Lemon, Orange and Lime.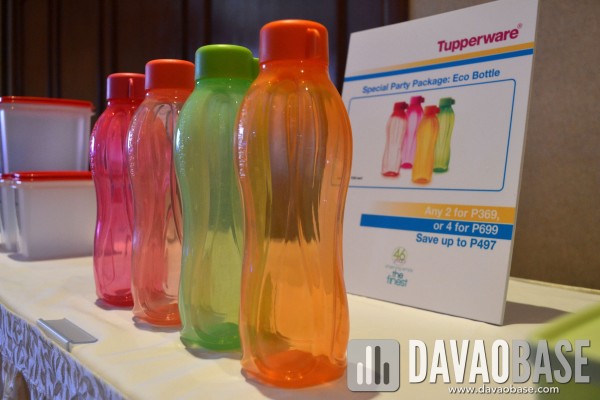 Mamu and I got our own eco bottles! Feeling models ng eco bottle! =)
Program hosts also presented the many special anniversary offers (free items with minimum purchase, huge discounts and more), explained the correct way to seal and unseal Tupperware products and entertained the audience with fun games and raffle prizes.
Mamu and Chito won Blossoms microwaveable serving platters, and got the chance to get close to Chef Marvin on stage.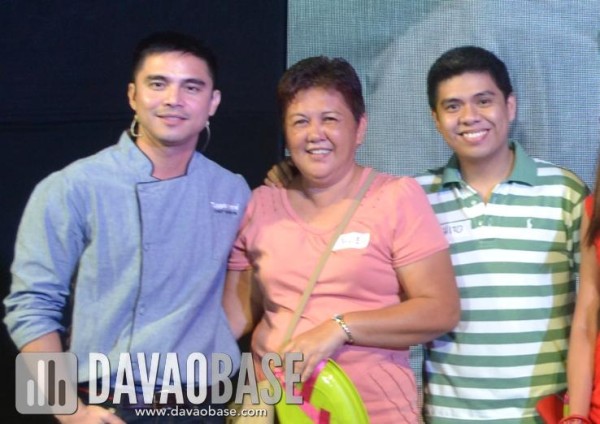 If you're interested in buying Tupperware products, visit:
Tupperware Star Express
35 Palma Gil St., Obrero, Davao City
Tel: (082) 224 4528
Fax: (082) 224 2327
Tupperware Star Power
Door 8, RD-RDC Bldg., J. Catolico Ave., General Santos City
Tel: (083) 302 0681
Fax: (083) 552 1373