Be in the SPOTLIGHT this Summer!
In this day and age when media is constantly bombarding unrealistic paradigms for beauty, it is important that kids and teens are taught that being beautiful is more than just skin deep.
In partnership with SouthSpot cable channel, the SPOTLIGHT PERSONALITY EMPOWERMENT WORKSHOP aims to help young people build their confidence by encouraging them to embrace their body shapes and sizes, by opening their hearts and minds to the world around them, by coaching them how to speak well and think creatively, and by nurturing their talents to bring out the finest traits of their "real" personalities. It's all about polishing diamonds in the rough!

Founded by former MTV Producer/Director, Jill Palarca, the workshop is a 4-week intensive course on TV Hosting, Emceeing for Live Events, Radio DJ-ing, Basic Acting, Dressing up according to their personality, shape, and size, Skin and Body Care, Basic Hair & Make-up Styling, and Print/Ramp Modelling.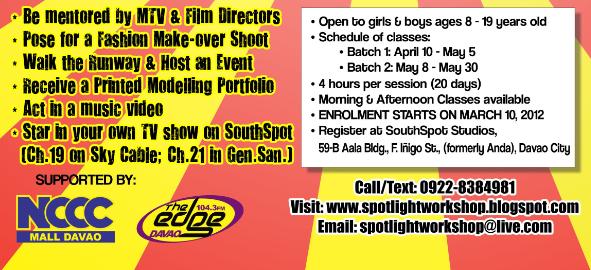 Open to all girls and boys aged 8-19, the workshop will be conducted at the SouthSpot studios. Each session is 4 hours long that is comprised of hands-on activities, lectures, and demos. There will be 2 classes per day to accommodate the different age groups. Batch 1 classes will start on April 10, 2012.
Tuition fee is Php 7,000 for 20 days which is inclusive of snacks, materials, handouts, and copies of all their recordings and photographs. Students will receive a printed portfolio of their fashion photo shoots. They will perform on stage for a fashion and talent showcase. They will also act in a music video, and star in their own TV show to be produced by SouthSpot. There's definitely no other workshop in town that offers the same experience and value for money.
Enrolment for the SPOTLIGHT Personality Empowerment Workshop Year 2 is now going on. Register at SouthSpot Studios, 59-B Aala Bldg., F. Iñigo St., (formerly Anda), Davao City. Look for Lucille Saniel. Or call/text 0922-8384981 for details. This workshop is supported by NCCC Mall, The Edge Radio, Le Souq and Popshionista.
Early bird registrants will receive Php1,000 worth Gift Certificate from Mary Kay cosmetics.
———————————–
Text and images from SPOTLIGHT
———————————–
Click here to see more summer activities for kids and teens.