While many are still busy thinking about their Valentine dates, others are now preparing for Araw ng Dabaw 2012. One of the most anticipated events is the crowning of the new Mutya ng Dabaw, and the selection process starts this week.

Calling all beautiful young ladies in Davao: The search for the Mutya ng Dabaw 2012 is on!
Mutya ng Dabaw 2012 Auditions
February 11 and 12, 2012, Mall Hours
SM City Davao Event Centre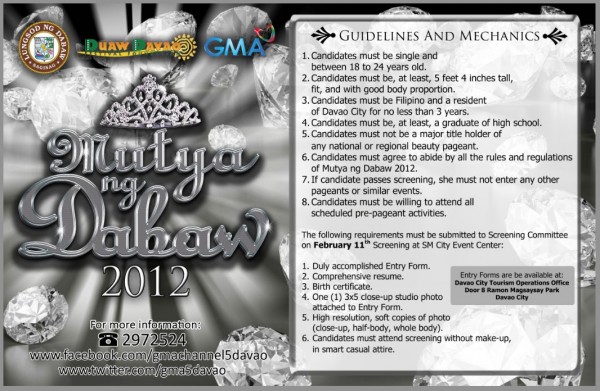 Mutya ng Dabaw 2012 Guidelines
1. Candidates must be single and between 18 to 24 years old.
2. Candidates must be at least 5 feet 4 inches tall, fit, and with good body proportion.
3. Candidates must be Filipino and a resident of Davao City for no less than 3 years.
4. Candidates must be at least a graduate of high school.
5. Candidates must no be a major title holder of any national or regional beauty pageant.
6. Candidates must agree to abide by all the rules and regulations of Mutya ng Dabaw 2012.
7. If candidate passes screening, she must not enter any other pageants or similar events.
8. Candidates must be willing to attend all scheduled pre-pageant activities.
Mutya ng Dabaw 2012 Requirements
The following requirements must be submitted to Screening Committee on February 11th Screening at SM City Event Center:
1. Duly accomplished Entry Form
2. Comprehensive resume
3. Birth certificate
4. One (1) 3×5 close-up studio photo attached to Entry Form
5. High resolution, soft copies of photo (close-up, half-body, whole body)
Entry forms are available at Davao City Tourism Operations Office, Door 8 Ramon Magsaysay Park, Davao City.