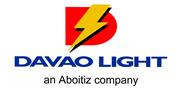 All Davao Light and Power Company offices will be closed on April 21 and 22 in observance of the Holy Week.
Collection services in the Ponciano, Rondez, and Panabo offices will resume on Saturday, April 23.  Paying hours for Ponciano, Bajada and Panabo will be from 7:00 AM to 5:00 PM.  While the accredited collection offices in Sto Tomas, Toril and Calinan will be from 8:00 AM to 12:00 noon and from 1:00 PM to 3:30 PM.
Meanwhile, our collection services will continue to be available on Sunday, April 24. Davao Light's Ponciano will be open from 7:00 AM to 5:00 PM, Rondez and Panabo collection offices will be open from 8:00 AM to 5:00 PM while the Toril, Sto. Tomas and Calinan accredited collection centers will be closed.
However, our payment arrangements, billing inquires and complaints, as well as, metering service concerns will be entertained on April 25 at the Ponciano and Panabo offices' customer service area from 8:00 AM to 5:00 PM.
Emergency service crews will continue to be on standby, 24 hours, on all dates for immediate response to urgent situations.
Davao Light's normal operations for all services will resume on Monday, April 2.
————- Taken from the Davao Light official website