Davao City's downtown park has a new toy.
The first day of December 2010 marked the unveiling of the Dancing Fountain at People's Park. It was launched on the same day as Pasko Fiesta sa Dabaw, the city's month-long celebration of Christmas.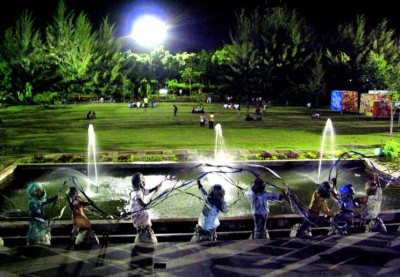 The dancing fountain promises to be a worthwhile feature at People's Park. The technology was imported from India, reportedly costing close to P24 million! The interactive fountain involves a series of water spurts that "dance" to background music. It has 59 special effects and more than a hundred lights that respond to the music being played.
On a related note, Pasko Fiesta sa Dabaw was launched by Davao City Mayor Inday Sara Duterte through the lighting of the giant Christmas tree and the activation of the dancing fountain. I witnessed the 36-foot tree, and I must say it's impressive and awesome. 🙂
Keep posted for more updates on the various events during the Pasko Fiesta sa Dabaw 2010.