Wifey and I live in the southern part of Davao City. That's why we have not frequented food establishments in Northern Davao City, specifically Bajada and Lanang. Fortunately, we were able to attend the Cignal Digital TV Press Launch in Spirale Ristorante at Damosa Gateway.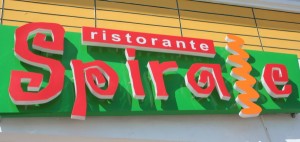 While the technology presented to us was amazing, I was also awestruck by the interiors of Spirale Ristorante. The place exuded the spirit of a quaint food shop, with the option to dine al fresco. Menu for the day was written in colored chalk on blackboard panels above the service area. I felt like I was dining in a family restaurant, with all the coziness that a home can offer.
We were not able to choose from their mouth-watering menu, because the food was already pre-ordered. Nevertheless, these were the dishes served to us:
Carrot & Squash Soup

. This is the first time that I liked a vegetable-based soup. Its taste is comparable to famous Chinese egg soups, but with a perfect blend of squash. The sandy texture also offered something unique and memorable.

Carbonara

. I'm a big fan of pasta in white sauce. Spirale's version of my favorite pasta dish was satisfactory. Nothing extraordinary or mesmerizing. Although it tasted good, I have tasted better carbonara in other restaurants.

Mixed vegetables

. The dish consisted of carrots, broccoli, asparagus, and green beans. It was deliciously buttery, and the vegetables crisp and fresh.

Italian Pot Roast

. I must say that this was the best dish on their menu that day. The meat was so tender, and the red sauce rich and flavorful. It's a perfect mash-up of salty and sour flavors.

Mango Trifle

. Wifey and I love mangoes and cake, so this dessert was tops on our list. The soft white cake was complemented by sweet mango slices and cream. Simply divine!
We're not quite finished with Spirale Ristorante just yet. We'll be visiting them again in one of these days to try out their real menu heavyweights. I hear they have pizza and other great Italian dishes to offer.
——————————-
Spirale Ristorante
Damosa Complex, Angliongto Road, Lanang, Davao City
Phone (082) 234-6298