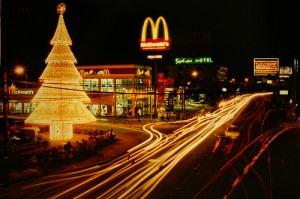 In keeping with the annual "Pahalipay ni Mayor sa Pasko" program, Davao City will once again experience Christmas through the whole month of December!
The events will be jumpstarted by the lighting of the City Christmas Tree at Rizal Park on Friday, December 4, 2009. The local government buildings will also glow with Christmas lights starting on this day.
This year's theme is "Tanglaw ng Pasko ang Bawat Dabawenyo", which stresses on the impact of sharing our inner light to others.
Pasko Fiesta sa Dabaw has become integrated like a normal festival in Davao City. Aside from fun and frolic, feeding programs and gift giving events are rolled out in different barangays. In short, the month-long festivities not only provide enjoyment, but also nourish the famished bodies of less-fortunate Davaoenos.
Here are some of the events that every Davaoeno or Davao visitor should watch out for:
Parolan sa Barangay

: barangay-based lantern-making competition

Parolan sa Kadalanan

: Lantern parade on December 21, showcasing the lanterns created by different barangays

Pasko Fiesta sa mga Distrito

: Performance Showcase Competitions, which includes Kanta Pasko (Amateur Singing Contest), Sayawan sa Pasko  (Christmas Dance Contest), Panayegon (Christmas Caroling)

Bulalakaw sa Kalinaw

: Senior Citizens Search for Symbol of Wisdom for Peace

Kasadya sa Tanang Takna

: This will involve various performances at Rizal Park and People's Park during the holiday season

Siyam ka Kadlawon

: Nine Mornings, where all the city's restaurants, eateries and foodies will set up booths and sell traditional holiday delicacies at Centennial Park in time for the dawn masses at San Pedro Cathedral

Rondalsaya sa Pasko

: Rondalla and Folk Dance Contest on Christmas Day

Mugna Himaya

: Christmas bazaar and fair trade from grassroots communities
Whew, now that's a jampacked month for Davao City! These should be more than enough for Davaoenos to feel the spirit of Christmas this year.
Note: The photo above was taken by world-renowned Dabawenyo photographer Niko Miguel Villegas