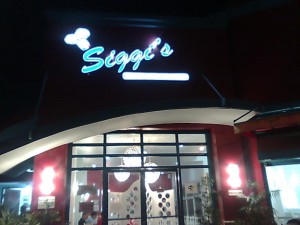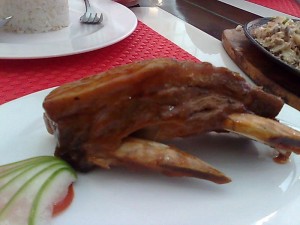 We were looking for a dining place that we have not visited yet. Fortunately, with the many Davao food blogs that we have read in recent weeks, we came across Siggi's Grill and Restaurant.
Situated near Tumble Tots along A. Mabini Street, the brightly-lit resto boasts of a modern interior design that might attract the hip young professionals of today's time.When I say "brightly-lit", I mean you can see the restaurant from a distance and not get lost.
We ordered Charbroiled Baby Back Ribs, Chicken Barbecue, and Siggi's Sisig Special. But it was Catch of the Sea (steamed fish in butter and lemon sauce) that unanimously got our taste buds' applause. It was perfectly soft, with the butter and lemon infused flavorfully into the meat.
Sadly, we weren't too excited about the ribs and the barbecue. Yes, they were delicious, but we've tasted better kinds from other grills.
If you're looking for a new restaurant to add into your list of places to visit, then Siggi's will be a good entry. It would be best to bring a group with you, say your family or barkada.