Lawrence Limjuco of the Ateneo de Davao University was chosen as the National Champion in the Undergraduate Research Contest of the 2009 PIChE National Student Congress held last February 25, 2009 at the Mindanao Kokusai Daigaku (Mindanao International College), Davao City. His study was entitled "Waste Durian Peelings – A Potential Bedding Material for Volvariella Volvacea (Straw Mushroom)". Dr. Albert Jubilo, an established researcher himself, was Limjuco's coach.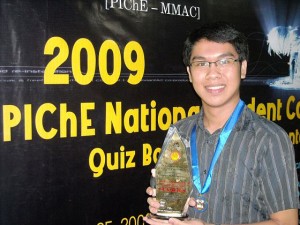 The PIChE National Student Congress was participated by Adamson University, Ateneo de Davao University, Batangas State University, De La Salle University, Mapua Institute of Technology, MSU-Iligan Institute of Technology, Notre Dame of Marbel University, University of Mindanao, University of the Philippines – Diliman, University of the Philippines – Los Baños, University of San Carlos and Xavier University.
This year's PIChE National Convention, held on February 25-27 at the Waterfront Insular Hotel, was also hosted by Davao.
Ateneo de Davao University
Roxas Avenue, Davao City
Tel +(6382) 221-2411
Fax +(6382) 226-4116