It's a great season for Davao as the city finds itself in a tourism boom, most notably due to the popularity of President Rodrigo Duterte. AirAsia found this surge in Davao's tourism potential as a perfect opportunity to connect the city to other parts of the country. Dabawenyos, make way for brand new AirAsia flights from Davao to Cebu and other vacation-worthy destinations!
The low-cost airline welcomed members of the media, officials from the Department of Tourism in Davao City, members of the Civil Aviation Authority of the Philippines, and select guests to send off the maiden flight on April 22 at Francisco Bangoy International Airport.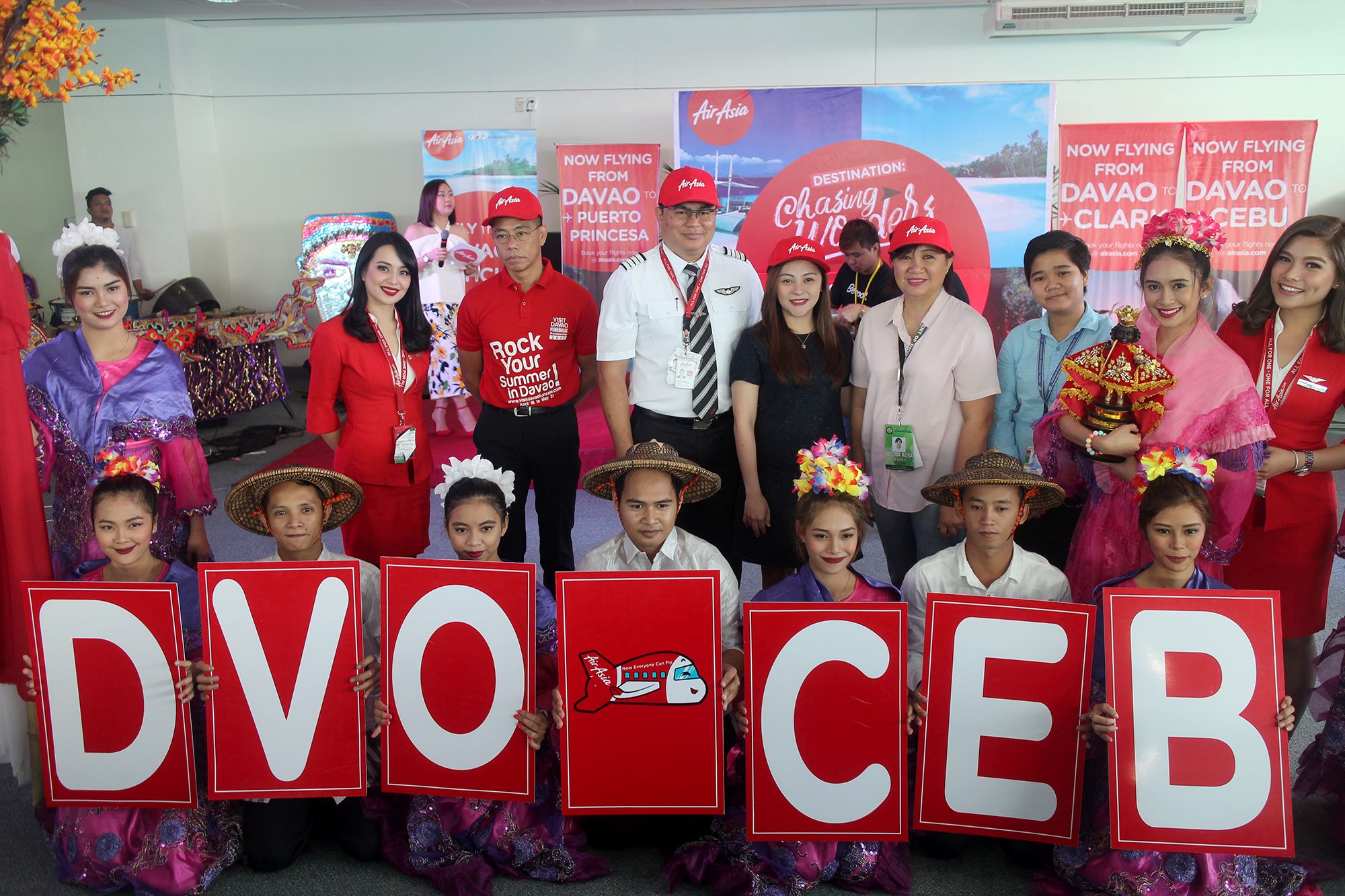 I was given the opportunity to be one of the first passengers of the newly launched AirAsia flight from Davao to Cebu. Along with fellow bloggers and media members, I got seated in one of AirAsia's front-row hot seats. As we landed in Mactan-Cebu International Airport, our plane (AirAsia flight Z2522) was greeted with a water salute by airport management. We were also welcomed by members of GMR-Megawide Cebu Airport Corporation (GMCAC).
Philippines AirAsia Director of Flight Operations Captain Gomer Monreal served as our operating pilot, while Captain Bernardino Perez and flight officer Leonardo Orendain were also onboard to assist. "From highlands to islands, AirAsia is officially welcoming summer with new and increased connectivity from Davao and Cebu to Boracay and Palawan and onto to the northern part of the Philippines via Clark Airport in Pampanga," Captain Monreal expressed.
AirAsia Promo Fare!
In celebration of the new AirAsia Flights From Davao To Cebu, Clark, Puerto Princesa, and Caticlan, AirAsia launches promo fares as low as P788 (all-in, one-way) until April 30. Promo flights are valid for travel from September 5, 2017 to February 8, 2018.
Head on to www.airasia.com to book your flights now!
Here is the complete list of new AirAsia Flights From Davao To Cebu and local destinations:
Davao to Cebu: twice daily
Davao to Caticlan / Boracay: once daily
Davao to Puerto Princesa / Palawan: three times a week
Davao to Clark: four times a week
Santan Inflight Food Choices
In keeping with the airline company's push for Asian tourism, AirAsia also launched a new inflight food menu called Santan. This Asian-inspired menu allows flyers to enjoy pre-booked onboard meals such as Thai Green Curry with Rice, Uncle Chin's Chicken Rice, Pak Nasser's Nasi Lemak, Chicken Adobo, and Spicy Beef Bulgogi with Japchae for P149 each. You may also order any of these meals as a combo for P199 with a can of soda and brownie.
If you want to savor these Asian flavors on your next AirAsia flight, just go to this page to check out the list of meals and beverages available.