AirAsia has recently signed a Memorandum of Agreement (MoA) with Davao Tourism represented by Visit Davao Fun Sale (VDFS) Vice Chair Fides Bernabe and Department of Tourism (DOT) Region XI Director Roberto Alabado III. The partnership aims to establish Davao as a premiere tourist destination in the Philippines with abundant resources for eco-tourism and available facilities for sports and outdoor competitions.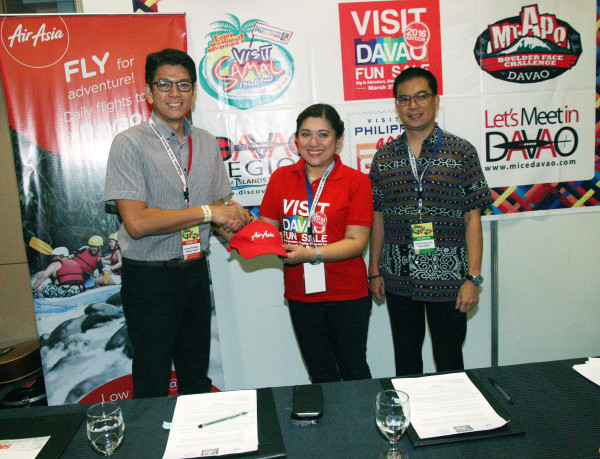 As airline partner, AirAsia is offering low fares for its Manila-Davao flights to encourage more and more tourists to visit and enjoy Davao's latest attractions. Among the major activities that will happen this year include, Visit Davao Fun Sale, Let's Meet in Davao: MICE Davao program and the 9th Mt. Apo Boulder Face Challenge, which were launched at the recently held travel and expo tour in Manila.
Scheduled from March 25 to May 31, the Visit Davao Fun Sale is a city-wide sale and events extravaganza that offer affordable tour packages and big discounts to over 250 participating stores and restaurants. MICE which stands for meetings, incentives, conventions and exhibitions is also a key tourism project in Davao according to DOT with affordable hotel rates and incentives to be offered for groups with one thousand or more participants.
Meanwhile, fans of extreme sports should visit Davao in April 23 for the official start of the 9th Mt. Apo Boulder Face Challenge which features a 24-hour race to the Philippines' highest peak.
AirAsia services Manila-Davao route with 3x flights daily departing from Manila's NAIA Terminal 4 at 6:20AM, 3:35PM and 8:10PM. The airline also offers multiple flights daily from/to Cebu, Bohol, Palawan, Kalibo (Boracay) and Tacloban. International AirAsia flights include direct services to various points in Malaysia, China and Korea from Manila, Cebu and Kalibo.
Keep updated with AirAsia's latest promotion and activities via twitter (@AirAsiaPH), Facebook (facebook.com/AirAsiaPhilippines) and on Instagram (@AirAsiaPh).
[Press release from Air Asia Philippines]