PLDT mobile unit Smart Communications, Inc. has completed its network expansion and improvement program in Metro Davao and surrounding municipalities. This resulted in big boosts to its voice, SMS and mobile internet coverage and quality, particularly on its Davao LTE (Long Term Evolution) service.
Field tests conducted by Smart showed:
Smart's LTE outdoor coverage now blankets 98% of Metro Davao, matching the outdoor coverage of its 3G service.
Smart's LTE indoor coverage increased six times – from 11% to 66% of the Metro Davao area.
Average download speeds of Smart's 3G service increased nearly 6 times to 6 Mbps, while LTE speeds increased more than 4x to over 17 Mbps.
"Smart is rolling out the fastest and most powerful LTE network in the country. This is the cutting edge of our efforts to improve internet services in the Philippines," said Joachim W. Horn, chief technology and information advisor for PLDT and Smart.
"In Metro Davao, the biggest change is the huge improvement in indoor coverage for LTE. This is important because people use mobile internet services mostly indoors – in homes, offices, restaurants, coffee shops. As a result, Davao is setting the pace for the country's major urban centers in terms of mobile internet experience. Davao is the best place to enjoy fast mobile internet services," he said.
"But we aren't stopping there. Smart is now rolling out the same network improvement program in Manila and Cebu. This is part of our 3-year plan to bring high-speed LTE all over the country," said Mario G. Tamayo, the head of network planning for Smart.
LTE, a 4G mobile phone technology, is an all-IP (internet protocol) network that delivers a superior data experience to customers. It is the fastest wireless data service that is commercially available. Smart was the first operator to offer LTE services in the Philippines. It was also the first to deploy LTE-Advanced (LTE-A) last April.
One of the initial deployment sites in Smart's rollout has shown massive improvement in LTE services. Subscribers in Boracay are now experiencing stronger mobile internet connectivity, particularly indoors, after Smart implemented a multi-band LTE setup on the island. This involves the use of the low-band 850 MHz frequency and the high-band 1800, 2100, and 2300 MHz frequencies.
LTE Base Stations Tripled.
In Metro Davao, the significant increase in coverage and capacity was achieved by boosting the number of LTE and 3G base stations. The number of LTE base stations, in particular, was tripled.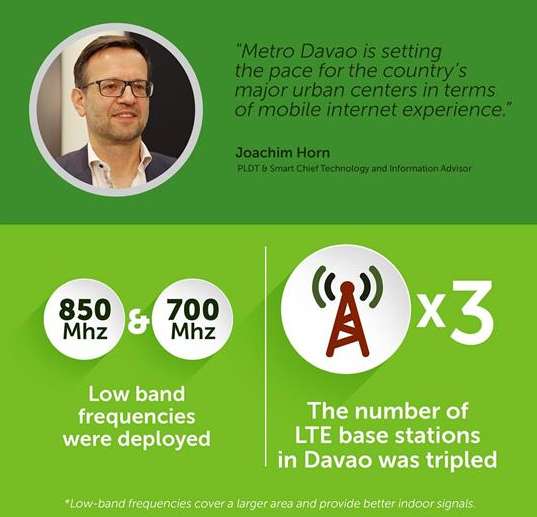 At that the same time, low-band frequencies, specifically 850 Mhz and 700 Mhz, were deployed for the use of Smart's LTE service. Low-band frequencies cover a larger area and provide better indoor signals.
As a result of tripling the number of LTE base stations combined with usage of lower band frequencies, subscriber data usage has risen in Davao. In the first few weeks after the completion of the network roll out, data usage on LTE jumped over 40%.
The same network enhancements are now being rolled out in Manila and Cebu. Smart technical crews have started to deploy more LTE and 3G base stations in these urban centers. In NCR and surrounding provinces, the number of LTE base stations will be increased by over 6 times. As a result, Smart subscribers will enjoy progressively better mobile data services in the next few months.
Smart's LTE service will be further strengthened as it deploys more 700 Mhz base stations in Davao, Cebu and Manila. Smart obtained access to this frequency band under the co-use arrangement following the acquisition of the telecoms business of San Miguel Corporation this year.
The use of these frequencies has been integrated into the three-year rollout plan submitted by PLDT to NTC last July. This plan is focused on deploying Smart's LTE service to 95% of the country's cities and municipalities by end-2018.
More LTE Handsets
Smart is complementing its network rollout by working with leading handset manufacturers to bring more affordable LTE handsets to the PH market. Thus, it has struck partnerships with MyPhone, O+ USA, Oppo and Starmobile. This is to introduce LTE handsets that utilize the 700 Mhz frequency band.
"Smart's drive to boost data coverage and capacity across the country forms a major part of the PLDT Group's capital expenditure program. PLDT has set aside about P48 billion in total capex for 2016. In the end, it is all about having the premier cellular network in the country," concluded PLDT and Smart Chairman and CEO Manuel V. Pangilinan.
Text, Video and Image from Smart Communications