Christmas season in the Philippines starts once the calendar turns to the -ber months. Holiday eating started early for us too, with Mamu recently preparing this smooth and creamy dessert made from milk and eggs. Yes, it's the sinfully sweet and delightful leche flan!
With her permission, we're sharing Mamu's Leche Flan Recipe here for those who want to try preparing this yummy dessert for the holidays.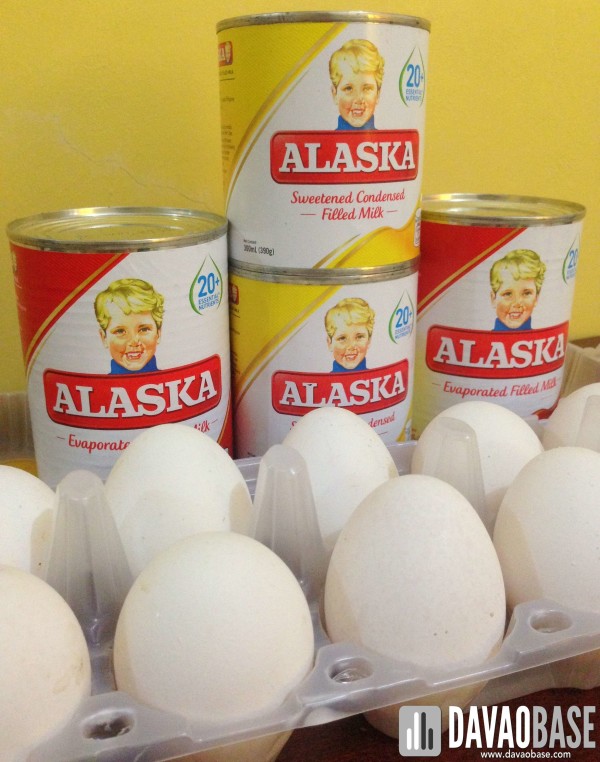 Ingredients to Make Leche Flan:
10 eggs
300-ml can of condensed milk
370-ml can of evaporated milk
1 teaspoon vanilla
1 cup brown sugar
For this leche flan, Mamu used medium-sized eggs, Alaska sweetened condensed milk and Alaska evaporated filled milk to make 2 pans of leche flan.
Procedure to Make Leche Flan:
1. Separate egg yolks from the egg whites, then lightly beat the egg yolks using a fork.
2. Carefully mix the beaten egg yolks with condensed milk and evaporated milk. Add vanilla for aroma.
3. Allow the mixture to pass through a fine strainer or cheesecloth to ensure smooth texture.
4. Caramelize brown sugar on low heat to make syrup.
5. Pour the syrup onto llanera, then slowly pour the milk-egg mixture. Cover llanera with aluminum foil.
6. Place the covered llanera inside a pot partly filled with hot water and turn to medium heat. Cover the pot to allow steam to cook the mixture.
7. Leave the setup for 20 minutes. Stick a toothpick to the leche flan. If no residue sticks on it, turn the heat off.
8. Allow leche flan to cool down to room temperature then refrigerate.
9. Once set, you may turn it over on a plate and serve to family and friends.
I don't think the photo of the final product did justice to how creamy and delicious this dessert was, but it was gone in a flash so there's no chance for another set of photos. Hahaha!
Happy leche flan cooking — and eating too, of course! 😉