We've heard about this new and exciting burger place in town and so we made a stop to see what this new joint has to offer. We dropped by Burgers and Board Games, located in Damosa Complex, on a Sunday afternoon and the place was filled with families and groups of friends having fun playing their chosen board games!

Burgers and Board Games offers you not WiFi passwords, but good old board games. You get to choose and use 2 board games at a time. If you're done with the game and want to play another, simply return the board game you're using and borrow another one. Available games are Monopoly, Boggle, Taboo, Scrabble, Star Wars Battleship, Code Names, Word Factory, Jenga and more.
On our visit, the place was filled with laughter and cheers from players from different tables. Hubby Chito, niece Dianne and I had fun playing a modified version of Taboo – Philippine Edition. It's 'modified' since we can't play in teams, given that there were only three of us playing. Hahaha!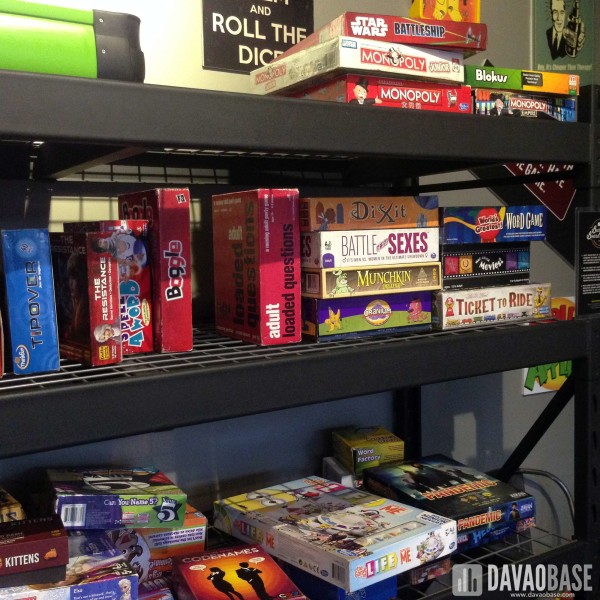 It's really a nice shop concept because aside from that fewer people buy board games these days, more and more people get too focused on their mobile devices — even during meals. This allows families and friends to interact more.
Of course, the board games make half of the establishment's name. Their burgers are made of 100% pure beef patties that are grilled and served with lettuce, tomato, onion and mayonnaise.
Their burger options are:
* Jenga Burger (P120) – with 120g of beef patty
* Operation Cheeseburger (P140) – with 120g of beef patty and cheese
* Taboo Burger (P180) – with 150g of beef patty and cheese
* Boggle Bacon Burger  (P220) – with 150g of beef patty, 2 bacon strips and cheese
* Double Stacked Burger (P310) – double 150g of beef patty and cheese
* Cranium Burger (P260) – with 150g of beef patty, bacon, mushroom, cheese and caramelized onion
You may add P30 to get fries and iced tea with your Jenga Burger or Operation Cheeseburger. They also offer coffee (P80-120), milkshakes (P150-160) and soda (P50).
We love games and friendly competitions and so we look forward to going back to Burgers and Board Games with friends and family really soon.
Burgers and Board Games
Operating Hours: 11 AM – 11 PM
Damosa Complex, Lanang, Davao City
Contact No: (+63 82) 287 0782
Email: burgersandboardgames@gmail.com