Whether you're a superhero movie fan or a follower of romantic films, you've probably noticed the significant upgrade of cinemas and moviehouses. These days, we can enjoy our favorite movies on enhanced surround sound and high-resolution digital picture quality.
Cinemas have changed a lot since 2013, when all Philippine cinemas were required to switch to digital. As a result, 35-mm film projectors have become obsolete, and the new generation of movie goers have no idea how movies were screened back in the day.
To relive the glory days of old cinema and educate the current crop of film viewers, NCCC Mall Davao has set up a portion of the cinema floor for Behind The Scenes: A Cinema Projection System Exhibit. The exhibit gives everyone the opportunity to take a closer look at the old film projector system that made use of 35-mm film reels. I got the chance to enter the exhibit on its opening on September 30, and it was amazing to see how a film reel is loaded onto a huge film projector.
It was also a delight — and a surprise — to see the gigantic film reel rewinder. The exhibit staff said that a motorized system rewinds the film reel. However, when it bogs down, the person handling the film rewinder has to wind the equipment manually, like pushing the bike pedals using your hands!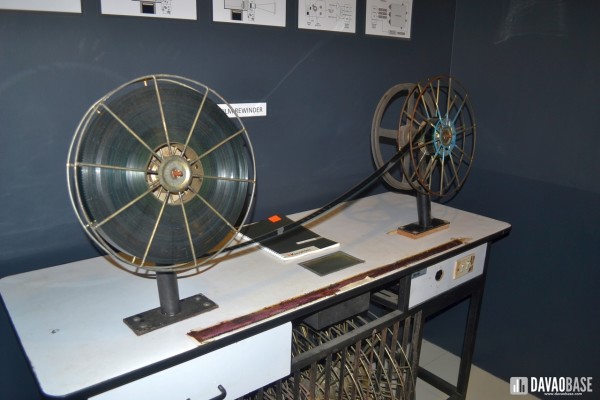 NCCC Mall Davao Cinema has already upgraded its theaters to give its patrons the best film-viewing experience:
Its sound system now uses the latest Dolby Surround 7.1.
Watching 3D movies is less straining to the eyes, as active 3D glasses are now being used. NCCC Cinema is only one of three cinema houses in the Philippines using this kind of 3D glasses (the other two being Rockwell and Shangri-La).
It uses the Theater Management System (TMS), a comprehensive system that organizes and streamlines film screenings to centralize movie distribution within a cinema complex such as NCCC Cinema.
While it's good that Davao cinemas have shifted to digital projection, it's also a great idea to look back at history and appreciate how the movie watching experience has evolved through the years.
For bookings, you may contact NCCC Cinemas at (082) 305-0744 or PM them on Facebook.