The Davao food scene is on a roll, as more niche restaurants are sprouting in the city. One of the exciting and most recent additions to the already impressive list of Davao food destinations is Yolks Flower Cafe + Cupcakery.
The restaurant is a fusion of passions by Yolks owners Michelle Robin (host of ABS-CBN's Maayong Buntag Mindanao and owner of Robin's Nest) and Chiqk Ybanez (owner of the exquisite flower shop Eufloria), who both found a perfect opportunity to combine their love for flowers into a full-service restaurant. The result is Yolks, a floral-themed restaurant that offers unique fusion dishes, decadent cakes and pastries, and flower arrangements.
The cafe's interiors perfectly capture the theme that Yolks wants to convey. From splashes of pastel colors and floral patterns in the walls to several flowers and plants adorning the restaurant, it's no surprise that Yolks wants to attract people who love flowers and nature. As I entered the store, I instantly felt like being in a tea party or a flower shop.
Check out some of these flowers by Eufloria, now on display and being sold at Yolks: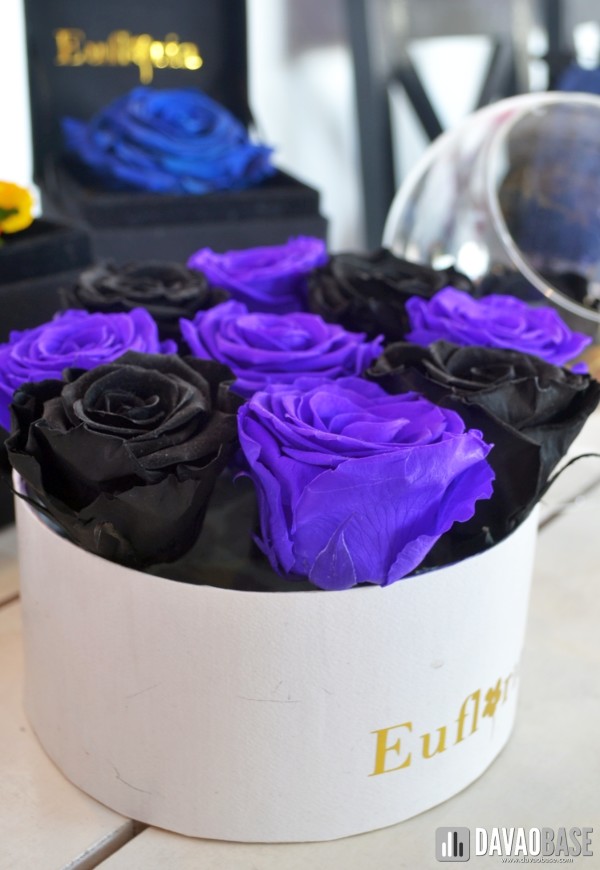 Michelle's cakes and cupcakes are the stars of the Yolks food show, as her pastry creations already serve as table centerpieces and talking points. Check out this awe-inspiring floral cake: the toppings may look like real flowers, but they are actually made of edible icing! The basket weave design surrounding the cake completes the overall ensemble of the cake.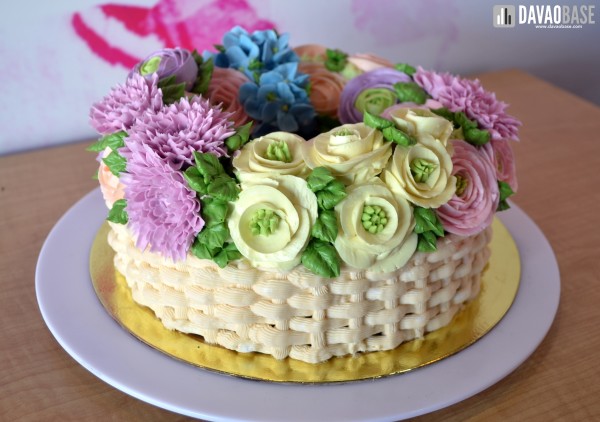 Yolks also offers cupcakes in different cake flavors, fillings, and toppings. Here are some of the cupcakes available at Yolks:
Aside from flowers and cakes, Yolks also serves filling appetizers and main course dishes. Here are some of the dishes that you can enjoy inside the floral-inspired cafe:
Black Pepperoni Pizza (P385)
This particular dish went viral on social media because of its unique look. Where else in the city have you seen a pepperoni pizza with a black crust? The color comes from squid ink but it doesn't affect the aroma or taste of the pizza. I'm a fan of pepperoni pizza and unique food preparations, and so I really enjoyed their black pizza.
Yolks Pork Ribs in House Barbecue Sauce (P295)
With its flavorful and cottony-soft meat, Yolks Pork Ribs is a knockout winner! This thick slab of pork ribs is presented on top of herb-infused mashed potatoes to bring sensory and gustatory satisfaction in a single plate. You may choose to order a cup of rice with this dish, but the mashed potatoes already puts the ribs to a whole new level.
Seafood Pasta in Crab Fat Sauce (P275)
This sinfully delicious pasta feast packs a mean punch in terms of flavor, and Yolks didn't scrimp on ingredients for this one-of-a-kind pasta. Their version of seafood pasta contains shrimps, calamari, crab fat sauce, and cheese. It's highly recommended to squeeze some lemon juice onto the dish to balance its richness.
Florence Home Gourmet Tuyo Pasta (P185)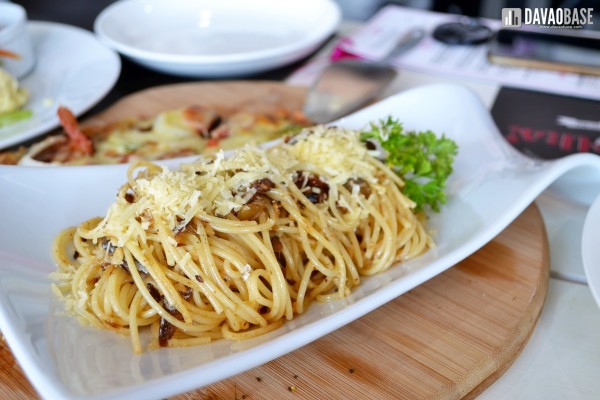 This pasta preparation elevates the Pinoy tuyo into a classy dish with sun-dried tomatoes and dried herring, and tossed in olive oil. This gourmet tuyo pasta is a welcome addition to the pasta offerings in Yolks (and in Davao City).
Pan-Grilled Peppered Steak and Rosemary Compound Butter (P355)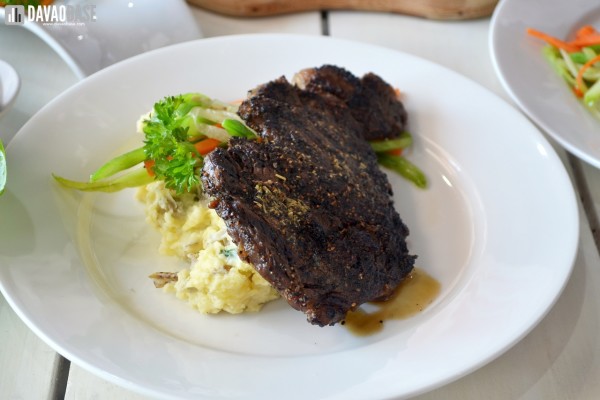 Infused with intense flavors and cooked to perfection, Yolks' version of peppered rib-eye steak is designed for the pickiest of meat lovers. This dish is perfectly seasoned, and comes with a complimentary dip of rosemary-infused compound butter.
Vegetarian Pizza (not yet in menu)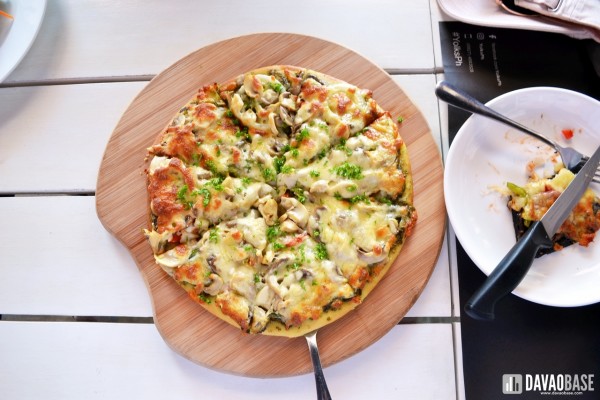 I was excited to see this dish on the table, not only because of its uniqueness but also due to the fact that it's not in the menu yet. Pizza and vegetables may not sound good together, but they work excellently in this veggie-based pizza. I love pesto, and so my salivary glands were jumping for joy as I took a bite of this pesto-based pizza. It really tastes amazing, even in the absence of meat.
Yolks House Special Salad (P165)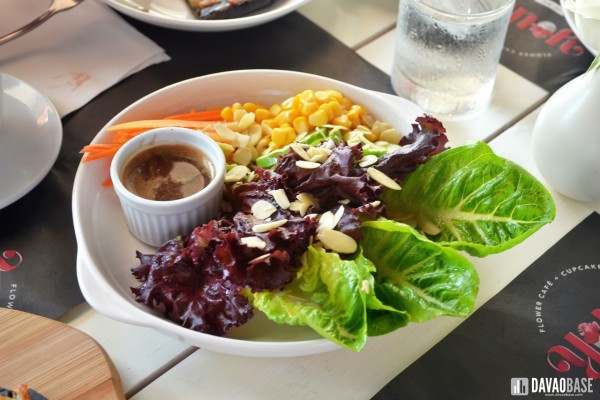 This salad preparation uses romaine and iceburg lettuce, tomato, onion, cucumber, corn, carrots, and honey balsamic vinaigrette on the side.
Waldorf Salad (P175)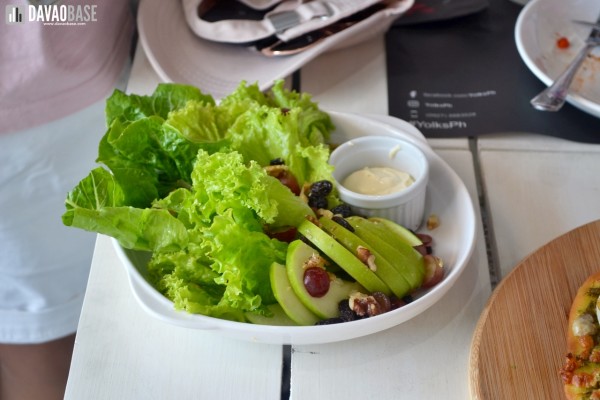 For fans of the world-famous Waldorf salad, Yolks also offers their version, composed of romaine lettuce, apples, grapes, and walnuts. The ingredients are flavored with chantilly dressing.
Yolks also serves rich and exciting beverages such as their take on Matcha Coffee (P135), as well as a wide selection of frappes and smoothies. Some of the cold drinks that we tasted include Choco-Hazelnut Frappe (P165), Nutty Caramel Frappe (P165), Mocha Frappe (P135), Choco-Peanut Butter Freeze (P180), and Tiramisu Freeze (P180).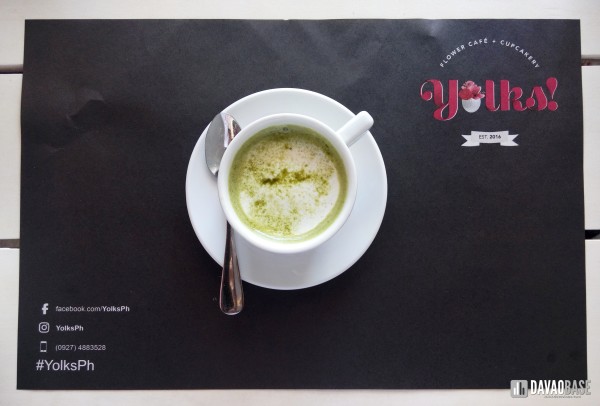 Yolks Flower Cafe + Cupcakery may sound like just another coffee shop or dining establishment, but lovers of flowers and desserts will probably disagree. Yolks brings a new kind of dining experience that is unlike any in Davao City — dainty, decadent, and definitely delicious!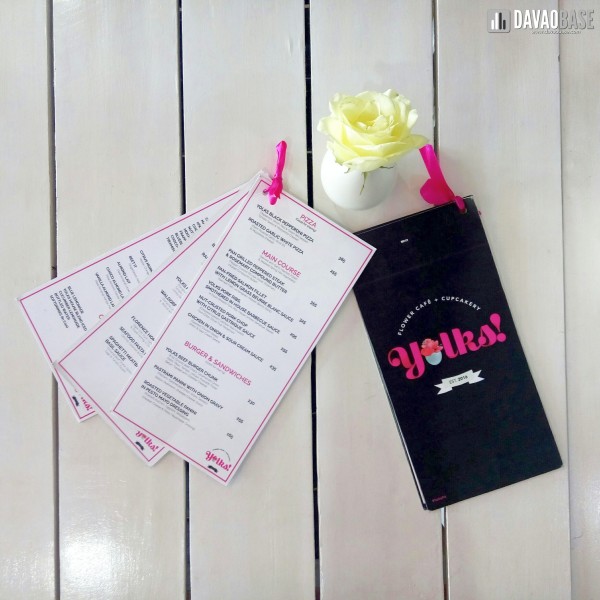 Yolks Flower Cafe + Cupcakery
Doors A & B, Bella Vie Building, Circumferential Road, Davao City
Mobile 09274883528
Store hours: 10:00 AM – 10:00 PM
Facebook / Instagram: yolksph