We recently attended the ASEAN Chemical Engineering Summit in Manila. The summit had different venues for different days, and so it was a bit of a challenge to look for a hotel that would be near the different locations. In the end, we decided to stay at Go Hotels – Otis Manila. Allow me share the highlights of our stay at the hotel.
Location:
We took a GrabCar from NAIA Terminal 2 to the hotel. Fare was P253, but with Grab's current promo of P200 discount for GrabCar bookings from NAIA Terminals, we only paid P53. Nice.
Go Hotels – Otis Manila is only about 15 minutes away from De La Salle University and from University of Santo Tomas, the venues for the first 2 days of the summit.
The hotel, including its lobby and guest rooms, is found at the 5th floor of the Robinsons Place Otis complex. It shares elevators and basement parking with the mall and call center offices also found in the same building.
Price:
Go Hotels does not have fixed published rates as these change depending on time of booking. The hotel adheres to the "book early, pay less" model. We booked our room through their official website at the Davao airport while waiting for boarding, so I guess we got the regular rates. We were billed P1,288 (+12% VAT) for the 1st night and P1,088 (+12% VAT)  for the succeeding nights. We stayed on weekdays. I would expect the rates to be different on weekends.
What's Available Inside Room:
queen-sized bed
32-in cable TV
hot and cold shower – rain shower and handheld
work desk (There's a sign that warns that the desk is for laptop only.)
individually controlled air conditioner
safety box
phone (It's only for room-to-room calls, but you can use the phone at the hotel lobby for outside calls.)
wifi (inside room and at lobby)
bedside lamps
4 pillows (Yey, 2 pillows each for us! Some hotels only give 1 pillow per guest and I don't think a lot of people sleep with only 1 pillow.)
single-use shampoo and soap (You can order other bath essentials at the lobby for P98.56.)
tissue paper roll
towels
key card
emergency lights (The complex had a power interruption during our stay, so we really noticed this feature! Haha..)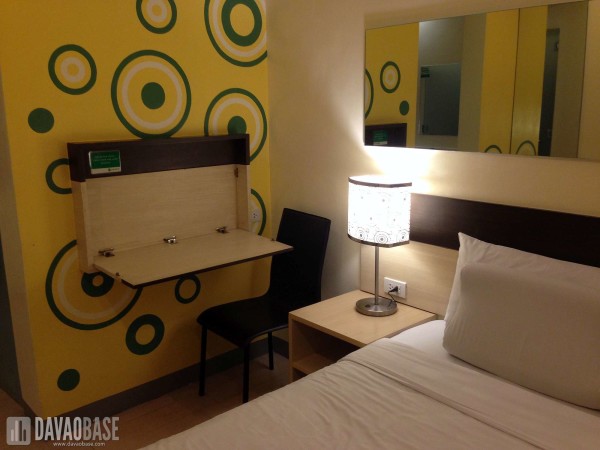 What's Not Available Inside Room:
glass
slippers
complimentary water
mini bar
refrigerator
bath tub
Providing only the basics is understandable since Go Hotels can be considered as a budget hotel chain. Also, they don't allow eating inside the room – thus no refrigerator, no mini bar. The hotel made available several tables at the corridors for eating and probably also for socializing. Fortunately, the mall is just a few steps away, so it was easy to buy water and other stuff. As an advocate of the use of a glass when brushing teeth to conserve water, though, I would appreciate if they provided a glass in the room.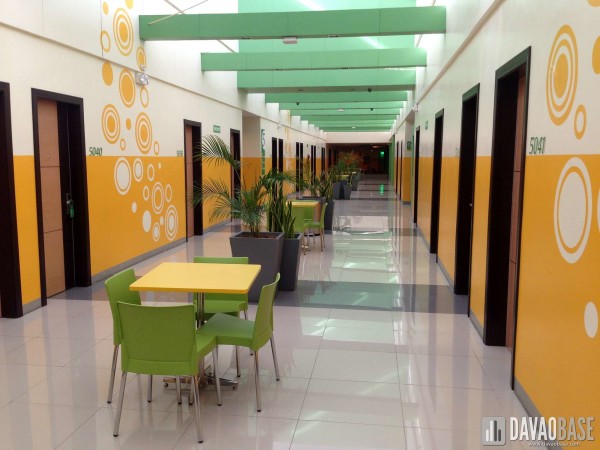 Pros:
The hotel is located in a mall complex, which has a supermarket, a drugstore, a bookstore, coffee shops and restaurants.
It has vendo machines for snacks, drinks, coffee and hot chocolate at the lobby. So in case you find yourself hungry at the odd hours of the night, you can just grab something from there.
There's a Country Style cafe that offers donuts, coffee, rice meals, pasta and sandwiches. It closes at 9 pm, though.
You may add (or not add) meals when booking rooms. This allows choice and flexibility for guests, especially for those who would prefer to eat their breakfast somewhere else.
They don't allow smoking. Well, that can fall as a pro or a con, depending on whether or not you smoke. For us, it's definitely a plus!
Cons:
They don't allow eating inside the rooms. For us who love to eat while working, discussing ideas, relaxing, watching TV or simply breathing, this is just a sad, sad policy.
Checkout time is 11:00 AM, which is a full hour earlier than checkout time for most hotels.
Overall, we enjoyed our stay at Go Hotels – Otis Manila. It's a nice hotel we would recommend for those looking for an affordable place to stay in the City of Manila.
Visiting Davao soon? Check our Davao City Hotels Directory.