The huge readership of our post 10 Things Any 80's Kid Who Grew Up In Davao Would Know goes to show that Dabawenyos know and love their classics. One of the longest running and most established family restaurants in the city is Davao Famous Restaurant, known to offer delectable Chinese dishes such as pancit, siopao and fried rice.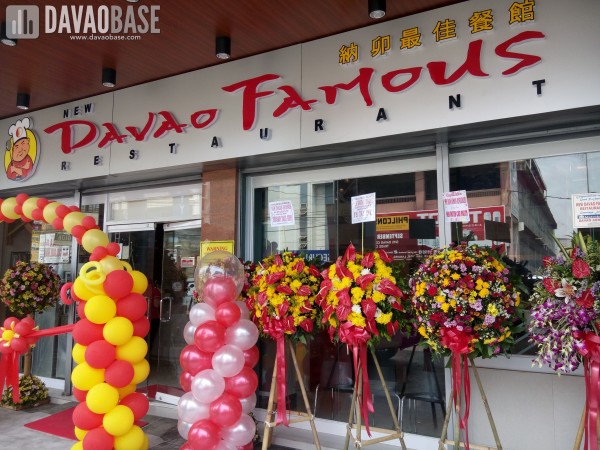 Just this month, the New Davao Famous Restaurant celebrated its Grand Re-opening, promising a better Chinese family-style dining experience for Dabawenyos. The place, still located in Magsaysay Ave. (also known as Uyanguren), now feels more spacious and offers a more modern vibe, but still carries its classic Chinese food offerings that locals have enjoyed for decades.
Also, New Davao Famous now has a cafe on its first level, where they offer different coffee and cake variants. We had a taste of their creamy Mocha Latte during the re-opening.
New Davao Famous has function rooms for special events, including a small function room for 30 people on the 1st floor, a mid-sized function room for 70 people on the 2nd floor and a large event venue that can accommodate 150 people also on the 2nd floor.
More parking spaces would have been an awesome added feature. Nevertheless, we're happy to see Davao Famous getting a lively makeover, especially since this place carries a lot of childhood and college memories for us. My father used to bring the family here for hearty meals while our college professor used to invite our class for lunch at this place during school breaks.
What are you excited to feast on at the New Davao Famous? As for me, I'm up for a sateme and fried rice binge! 😉
New Davao Famous Restaurant
Ramon Magsaysay Ave., Davao City
Operating Hours: 6 AM – 10 PM
Contact No: (+63 82) 227 1972 / (+63 82) 227 2633
Email: newdavaofamousrestaurant@gmail.com
Link to Official Restaurant Website