As a meme that became popular on Facebook a few months ago says, you're a true Dabawenyo when you've been lost in Obrero. Hahaha! Of course, that's very subjective and mainly based on the experience of the one who created the meme. Still, it's catchy and funny.
In one of our few lazy afternoons when we can afford to just drive around the city, we "got lost" in Obrero and found a nice spot to stop and have lunch in — and that is Espetada, House of the Hanging Chicken.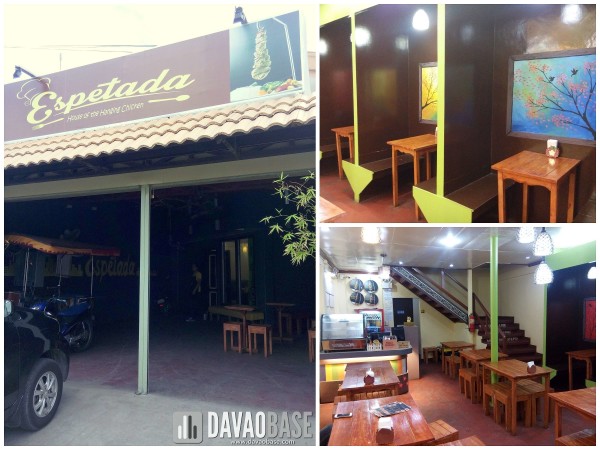 Espetada — named after a Portuguese dish of large chunks of seasoned and skewered meat — offers chicken, seafood and beef soaked in a special marinade, basted in authentic peri peri sauce and cooked skillfully.
They offer 4 Espetada variants, namely Reyna Espetada (boneless chicken thigh), King Espetada (boneless chicken breast), Seafood Espetada (shrimp, squid and fish) and Beef Espetada. Each one is served with 2 side dishes (choose from rice, fries, buttered potatoes, buttered corn and Chef's salad). All Espetada meals are available for P150.
Other house specialties include Cataplato (P130), Couple Beef Kebab (P95) and Grilled Chicken Feast (P135).
We had the Reyna variant and the beef kebab. Both meals were interestingly tasty. It's like a Mediterranean feast in the mouth!
The place is small and charming, with mini booths for those who want a tiny bit of privacy. Its fixtures and wall decorations are also adorable. They give a relaxing vibe, although you're eating slightly spicy to spicy food.
The restaurant also offers appetizers, salads, pasta, sandwiches, other main courses (like Breaded Chicken, Sizzling Gambas, Bisayan Fish Kinilaw, Asim Sinigang, Tropical Curry, Cheesy Beef Caldereta and Sabaw ni Bebot) and desserts.
Espetada: House of the Hanging Chicken
Door 5 Belles Apartment, Sobrecarey St., Obrero, Davao City
Operating Hours: 11 AM – 11 PM
Contact No: (+63) 908 969 8694 / (+63) 932 744 6555
Email: espetadavao@gmail.com